It was a heartwarming experience reading through all the entries to our giveaway to see  
The Sound of Music at Resorts World Manila
for free. Out of
90+ entries
, we narrowed it down to
46
– yes, that's exactly the number of answers that touched our hearts and have been selected to be in the raffle for the 2 tickets we're giving away to see the musical this coming
Friday, October 14th, 8pm
, at the
Newport Performing Arts Theater
(NPAT).
The schedule was moved back to October 14th because of the overwhelming ticket sales. So, if you're not one of the winners and you haven't bought your tickets yet, don't forget to buy now!  Call the Resorts World Manila Tourist/Visitor Hotline at 836-6333, 908-8833  or TicketWorld at 811-9999 or visit  www.rwmanila.com  for more information.
So, before we announce the winners who were picked randomly out of the 46 best answers, as part of tradition, here are our favorite responses.
One of our early favorites was this one from Lawrence Andrew Fernandez:
The Sound of Music is one of my favorite things and I've heard from a lonely goatherd that they will stage it at Resorts World Manila. While I can climb every mountain financially just to buy tickets, I have confidence that I can win this for me and my girlfriend.

This will make our relationship hum sweet music like Do-Re-Mi. I would do anything to watch this play before it goes so long, farewell, even eat a thousand Edelweiss. But I feel that I can score those tickets because somewhere in my youthful childhood, back when I was 16 going on 17, I must have done something good to deserve this.
We guess you already know why it's one of our favorites – the multiple reference to the songs in The Sound of Music. :)
Here are the rest of our faves:
by Omar P. Adam:
I'll bring my ate on this event in celebration of our birth month which is in October. Mine falls on the first while her's is on the 16th. My ate and I have completely different personalities. Back when I was still in college, we often fight over almost all the little things. But if there's one thing we enjoy doing together, it's watching musical shows like this. She started introducing musical shows to our family back in 2009 when she got us tickets for Avenue Q. It was one of the best musicals I've seen so far. On my 21st birthday, she got us tickets for Hairspray musical because she knew I'm a fan of the movie.

Now it's my turn to show her how I much love her by joining this promo and hoping to win the tickets so I could date her. If knew my ate, she's a strong and incredibly intelligent woman. She might come across as tough and mataray, but once you get the hang of her, you'll realize how much of a supporter she is and how much she values her family. In conclusion, I wish to bring my ate to this awesome musical. I hope you'll give me the opportunity to do that. In any case, I hope everyone here in this promo good luck and let's support musicals like this in our country so we could watch "wicked" naman in the future…(soon)
by Christine Joy Vealsco:
I will definitely bring my boy friend. I met him 8 years ago because of the SOUND OF MUSIC! Yes, we had a school play back in high school and I was casted as sister catherine. He bought a ticket along with his friend who introduced him to me. Who would have thought that this play, can bring TRUE LOVE. A few years later we've met in college and immediately he knew that I was the girl from SOUND OF MUSIC. Now, we've been together for 3 years and 3 months! I was a lucky girl who met the love of my life and I owe it all to the Sound of Music.

(If ever you would to read more about this love story, I actually have a longer version of this. Heres the link:
https://www.facebook.com/note.php?saved&&note_id=243159689058600
Win or lose, I'm just happy to share some LOVE)
by Ronald James Tuazon:
I will bring my 4 year old daughter who loves the sound of music. She even knows all the songs on the movie. Her dream is to go to Salzburg Austria to visit Maria's house and eventually meet Maria there but we always tell her that Maria doesn't live there anymore. She's saving money on her little piggy bank and still dreaming that one day, she can go Austria and finally visit maria's house. Our friends always tell us to write to Oprah and maybe who knows, she might actually meet her idol Maria.

The sound of music was introduced to us by our senior citizen neighbor and ever since, my daughter got attached to it. She likes maria better than mickey mouse. She watched the movie more than 50 times already but doesn't get tired of watching over and over again.
And this one from Bea Banzuela came in late (past the deadline), but we still enjoyed reading her entry:
There are 7 awesome reasons why I really, really, REALLY want to watch this musical (Why 7? One for each musical note, and because the captain has 7 children, what's so fearsome about that?

7. The Sound of Music movie. It's my ultimate glue movie – the movie I can't resist watching whenever I see it playing on TV> I am glued to my seat anytime this plays, and will have a hangover for days, singing the songs and playing them on Youtube. Being a film student, I've watched plenty other movie musicals but none had the effect TSoM had on me – the perfect symphony of good story, excellent production design, superb acting – It's so inspiring that I'm getting giddy just thinking of this musical.

6. Joanna Ampil. Watching her performances on Youtube from West End to ASAP makes me admire her more and more. I've never seen her live; it'll be such a joy seeing her onstage!

5. Philippine Philharmonic Orchestra. What's better than The Sound of Music score? Hearing it LIVE! The rich, pure sound of a full orchestra, and not just any orchestra, but THE PPO – my ears would be very happy indeed.

4. The characters. I have related to them in each stage of my life – from the shy Gretl, the sweet Marta, the booklover Brigitta, the naughty Kurt (god bless Kurt!), the graceful Louisa, the protective Frederick, the 16-going-on-17 innocent as a rose Lieszl. I also have some Maria in me – her confidence, humor and longing for adventure.

3. The lessons. Love comes unexpectedly, reaching for your passion and facing fears, the importance of family, the necessity of joy and laughter and music around the house.. these are all engraved in the heart. I want to share these lessons too, and what better way to do it than watching the musical and encouraging others to watch it as well.

2. The songs! The sound of music, literally. It's completely eargasmic, an incredible thing to experience. There are goosebumps – inducing songs Climb every mountain), heartstring-tuggers (Something Good), rainy day staples (My Favorite Things).. TSoM can be the soundtrack of my life. All the songs are terrific by themselves, but put it all together and the whole is more than the sum of its parts – that's what makes TSoM so special.

1. The love. As the actor who played Frederick says in their 45th anniversary cast reunion, there are all kinds of love present in TSoM. One of them is familial love. That's why if I win this, I'm tagging along my superkuya with me. We grew up watching the film, and as we face our different adventures in life we will always share memories of our childhood watching The Sound of Music. Seeing the stage version together would reunite us once more into being the kids we once were, and realize that being childlike – full of wonder and amazement – will never get old.
If you want to know if your entry was included in our best entries roster, click here.
There were a TON of sweet and touching entries which we believed deserve the tickets. But, we can only pick 2 so we had to do it randomly to make the decision easier. :)
Without further ado, here are the TWO lucky winners of tickets for 2 to The Sound of Music premiere: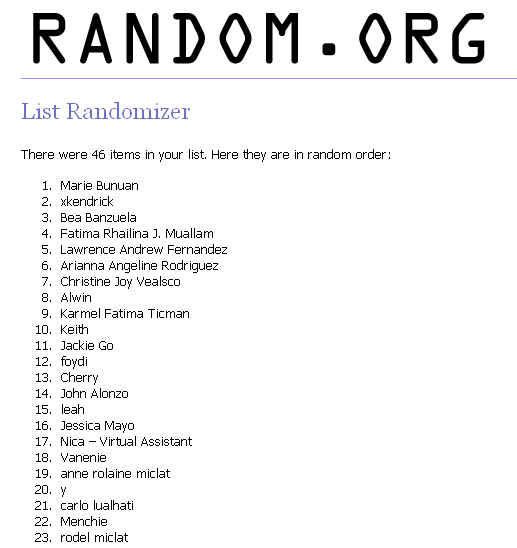 CONGRATULATIONS to

Marie Bunuan

xkendrick
Please wait for our email notification where we'll give you details on how you can claim your tickets. We hope you'd enjoy the musical! :)
If you want to watch The Sound of Music, make sure you buy your tickets now! Shows start on October 15th.
Visit the following websites for more info: