This is it! Our winnners of 3 tickets to the special screening of Spy Kids 4 happening on September 13th, Tuesday, 7pm at SM Megamall Cinema 7!
REMINDER:  Before we tell you the winners, let us remind you that our future winners of promos like this one will be picked from those who subscribed to our blog updates and completed other tasks like leaving a comment, etc. So, if you haven't done so yet, subscribe to our email updates by clicking here or entering your email address on the subscription box on the sidebar.
This giveaway was supposed to end later today, but we decided to already pick the winners so we could arrange how they can claim their tix as early as now. So….
We picked 4 of the best and heartwarming answers from the comments in our promo post  and one random winner. Here yah go…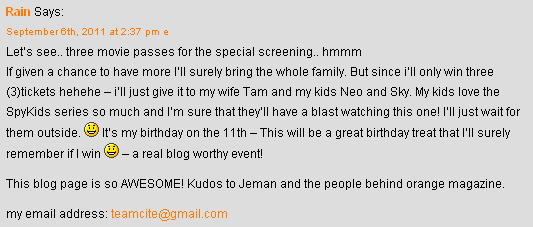 And, our random winner:

CONGRATULATIONS, EVERYONE!
You all won yourselves 3 tickets each to the special screening.  Please wait for our email for information on how you can claim your movie passes to the special screening.
This Spy Kids 4 special screening promo was brought to you by Orange Magazine TV and 103.5 WOW! FM.
ENJOY!