I've been living in the south of the metro for more than 30 years and growing up in Alabang, Muntinlupa City, I've seen how it became a developed city with so many malls being placed in our area.
In my high school days, I always frequent the then called Ayala Town Center. I actually considered it my 2nd house as it was the first mall that opened in the south and just I love the fact of just strolling there. I remember always staying at the South Supermarket where I eat at their food court and sometimes get lucky to see celebrities like my celebrity crush then, Guia Alvarez of Ang TV days, hanging out there as well.
But when the new malls starts popping out in Alabang, I rarely visit the now known as Alabang Town Center because it become too far for me already (although I do still get to visit it once in a while to shop for some clothes). I admit I prefer to shop in ShopWise and SaveMore in Festival Mall Alabang because it's more near my house. But when I found out that Metro is opening its newest branch in the south, I got excited by it.
Metro, is in fact, the leading retail store in Cebu and owned by a private family corporation, Viscal Development Corporation (VISCAL). The new Metro Alabang Town Center opened its massive 44,000 square meter retail store last August 19. This is the latest anchor of store of the premier Alabang Town Center operated by the Alabang Commercial Corporation, a subsidiary of Ayala Land, Inc.
The Metro Store Alabang is the company's 18th store and its third retail venture in Metro Manila, following the successful Metro Market! Market! in Bonifacio Global City (BGC) and Metro Market, the anchor supermarket of the recently opened Lucky Chinatown Mall in Binondo. By the end of 2012, there will be three more stores to be opened bringing the total to 21.
According to Mr. Eduardo Ponce, Metro retail group's president and COO: "This new store is proof that we are focused on our vision of becoming a world-class retail company with a mission of providing quality products at competitive prices complemented with delightful customer service.  Definitely, our customers in the South will have a different kind of shopping experience in Metro Alabang. That's why we invite them to discover the new Metro, truly a one-stop shopping destination".
To fulfill this customer promise, Metro took major steps to upgrade its merchandise assortment and store layout plus enhanced shopper amenities to deliver an elevated customer shopping experience.
"We have employed the services of an award winning retail store design firm from the U.S. and partnered with an experienced team of local designers and architects," said Mr. CJ Jesena, vice president for marketing and retail development.
Orange Magazine TV was one of the select media invited to cover the grand launch and we all got an exclusive tour at the soon-to-open Metro Department Store (it opened the next day, August 20). At first look, I was impressed already by how organized their stall was placed. You can actually see almost everything as soon as you enter the store.
Here's a quick tour at the Metro Supermarket and Department Store where guests were given to do some 'treasure hunting' at some of their stalls: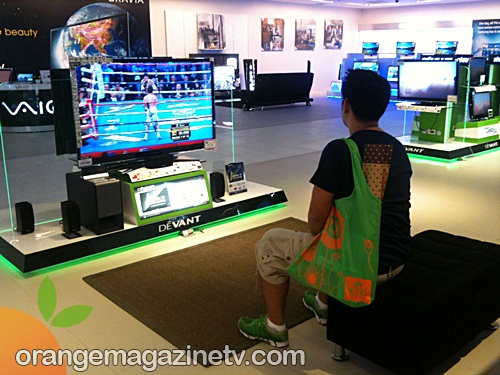 The Gaisano family opens in a ribbon cutting its newest anchor store at the premier Alabang Town Center (ATC) where attendees includes Metro Board of Director Jack Gaisano, Metro Chairman & CEO of Metro Retail Group Frank Gaisano, Ayala Land Inc. EVP & Commercial Business Group Head Bobby Dy, Metro Board of Directors Margaret Gaisano Ang, Atty. Byron San Pedro and Dr. Edward Gaisano, Msgr. Felipe Ocol, and President & COO of Metro Retail Group Eduardo Ponce.
I did some serious shopping days later it opened and will be sharing my experience in a different post. For now here are some more interesting information about the new Metro Alabang Town Center:
Metro Department Store – There's always something for you at Metro!
Shoppers will surely enjoy a different kind of retail therapy with the opening of Metro department store, especially with its unique and high quality merchandise. There is an interesting section called "Treasures of Cebu," featuring one-of-a-kind, export quality accessories hand crafted, designed and manufactured by Avatar (Gil Carungay and Artizans), Binibini (Janice Minor, Clara Guinefolleau, and MiArcenas) and Tribal Crafts International.
At Metro's Heritage Furniture Collection, Alabang shoppers can now find Cebu-made world-class furniture pieces, and if they have preferred designs, Metro accepts made-to-order items. They have the option of matching these exciting furniture and home items with choice appliances at the Appliance Center, including top brands of Samsung, Sony, Electrolux, and La Germania.
In the Home Department, Sleep Zone offers an exclusive collection of beds called Regal Comfort Collection. Fashionistas and hobbyists will also have fun going through Metro Alabang's wide collection of notions and textiles.
Another unique and exciting store feature is the Metro Jewelry section, where Alabang customers can choose to invest or indulge in world class fine jewelry—from South Sea Pearls, to Diamonds, Italian Gold, and Colored Stones.  Easy payment options such as installment, deferred payment and lay-away plan are available.
Metro Supermarket – A wide range of groceries from around the world right at your fingertips!
Managing Director for Metro Supermarkets Eric Poiret applies his wide experience from supermarket chains in Europe and the Middle East, to bring satisfaction to the Metro shopper.  With over 12,000 local products and 4,000 directly imported items, the Metro Supermarket will surely fulfill the needs of
the Alabang customer.  There is even a Hotel, Restaurant, Catering (HORECA) section and institutional section that can provide wholesale package offers.
Metro Gourmet, A Taste of Europe in Alabang
Alabang customers can now have a 'taste of Europe' by simply visiting Metro Gourmet Deli and Coffee Shop located at the supermarket level. Metro offers a wide selection of gourmet food —from the 180 cheeses and deli items, to 200 different dine-in or take out choices. This is the only place in the Philippines where you can find the real Foie Gras Au Torchon Mi-Cuit (delicately-cooked, wrapped in cloth).
Suisse Cottage – Savor freshly baked bread and pastries!
Metro commissioned a professional baker from France, Damien Deslandes, to develop products to suit refined tastes of Alabang market and treat them to delectable and meticulously prepared European pastry delights at Suisse Cottage. Deslandes had a long experience in pastry and bread making from a top hotel chain and premium deli in France and treating.
Metro Wine and Liquor Shop – Selections from around the world
At the Metro Wine and Liquor Shop, there is a wide selection of wines and liquor from all around the world. Metro is proud to have an in-house private sommelier, Evan Inocencio, to advise customers on wine selection, who has a special selection of French and California wines.
Taste of Cebu – Honest to goodness Cebu Lechon flown in daily from Cebu!
Lechon fanatics in the South can now enjoy authentic Cebu Lechon, deliciously flavored and carefully roasted over coal fire, ordered either by the kilo or whole for parties and events. There is even a spicy lechon variant. They can enjoy the lechon with "puso" or hanging rice or top it off with other Cebu delicacies, such as Mandaue Bibingka and other sweet treats.
Metro Pharmacy – For your medical and health needs
Shoppers do not need to make a separate trip to the drugstore, as Metro Pharmacy is located right beside the Metro Supermarket. They can enjoy friendly customer service and buy items at reasonable prices.
Food Choices – Great meals just footsteps away from the supermarket
Right beside the supermarket, shoppers can find multiple food kiosks to satisfy their cravings. Metro has sumptuous pizzas and pastas at Sbarro, the first outlet in ATC. Youngsters can go to their favorite Serenitea, while dads can have their fill of coffee at Starbucks and pair with goodies from GoNuts Donuts. Also available are healthy choices such as Bodato Burgers and Tutti Frutti frozen yogurts.
Fried food enthusiasts can go to Buffalo Wings & Things and NYFD for fries and dips. There are also fast food choices: Food Avenue–Roaster Chef, Noodle King, Steak Rush and Food To Go.
Incorporated in 1981, Metro opened its first department store and supermarket in 1982. Through a series of expansions and partnerships with Ayala Land Inc., Megaworld and other developers, Metro now operates 17 retail outlets: 11 in Cebu Province, two in Metro Manila (Bonifacio Global City, Taguig and Binondo), Legazpi, Lucena, Angeles City in Pampanga, Maasin in Leyte and now, in Alabang. For more details about Metro Store, visit www.metro.com.ph.