When it comes to drinking and socializing, whisky has become synonymous with all things cultured, full-bodied, luxurious and upscale. It has long been favored by influential individuals or people in power. In fact, whisky has the reputation of being the drink of choice of those in distinguished offices, board rooms or gatherings.
Today, whisky has gained a new and rather avid following among the younger set who have an appetite for adventure and refinement. Its popularity is such that you will see mature whisky connoisseurs sipping drams of the drink side by side with new whisky lovers in bars, parties and social gatherings.
But what is it about whisky that captivates both young and old and not to mention, neophytes and aficionados? Is there more to it aside from taste and balance that captures liquor enthusiasts? Here are some reasons why more and more people find this dark spirit appealing.
With all these healthful benefits coupled with its fascinating flavor, history and distillation process, it's no wonder that there continues to be a growing clamor for whisky.
Whisky is packed with antioxidants.
Everybody knows how antioxidants help in fighting off cancer. These antioxidants which are found in certain food and drink help neutralize free radicals that are known to cause certain sickness and diseases as it contains a high amount of ellagic acid which is one of the most effective and powerful antioxidants.
Whisky is ideal for dieters.
Unlike other alcoholic drinks like beer, whisky doesn't contain carbohydrates, and only has a sparing amount of sugar. This means that it's the ideal alcoholic beverage for those trying to maintain their figure or who are diabetic and need to keep an eye out on their blood sugar. To top it off, whisky is also gluten-free because of its distillation process
Whisky is good for the heart. Whisky has the ability to increase good cholesterol or HDL, and counteract the effects of bad cholesterol or LDL. Touted as a drink that could contribute to good heart health, studies have also shown that those who drink a moderate amount of whisky regularly have about a 50% chance of having a heart attack or stroke.
Whisky can chase away colds. Remember how some old books and movies mention that having a hot toddy or a drink with whisky, lemon and honey can cure the common cold. Well, apparently there is truth to that. According to studies, the alcohol enables mucus membranes to fight off the infection by dilating the blood vessels.
First-time patrons and whisky connoisseurs can experience the benefits as well as expand and explore a wide of variety whiskies at this year's Whisky Live Manila 2018.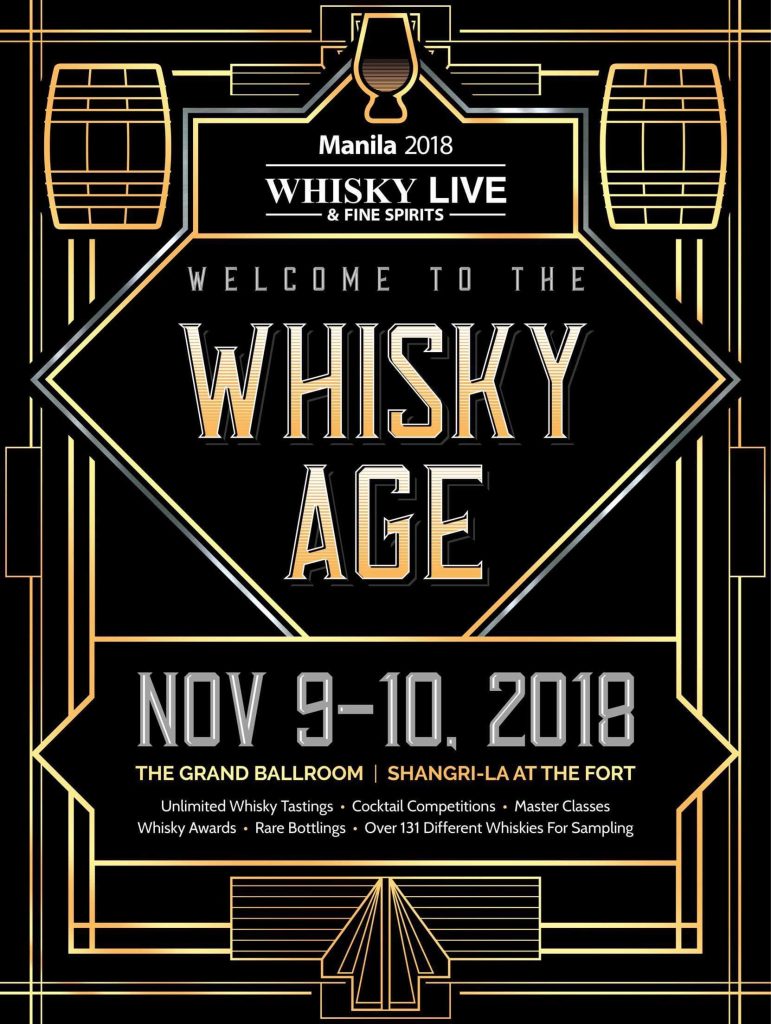 Whisky Live Manila 2018 will once again open its doors to thousands who want to decipher the timeless allure of whisky on November 9 and 10, 2018 at the Shangri-La Hotel at the Fort in Bonifacio Global City.
Whisky enthusiasts can sample over a 100 whisky brands and variants including small batch, artisanal and handcrafted. The two-day expo will also include Master Classes and talks conducted by international whisky experts. For tickets, log on to whiskylive.ph or visit https://www.facebook.com/WhiskyLiveManila/.