It has just been days since the Premier Volleyball League (PVL) Reinforced Conference wrapped up on ABS-CBN S+A and yet we are already missing the girls—from their charming antics on the sidelines to their awesome plays inside the court.
As champion Creamline Cool Smashers, led by Finals MVP Jia Morado and team captain Alyssa Valdez, continue with their celebration, let us look back at five of the many reasons this conference is simply one for the books.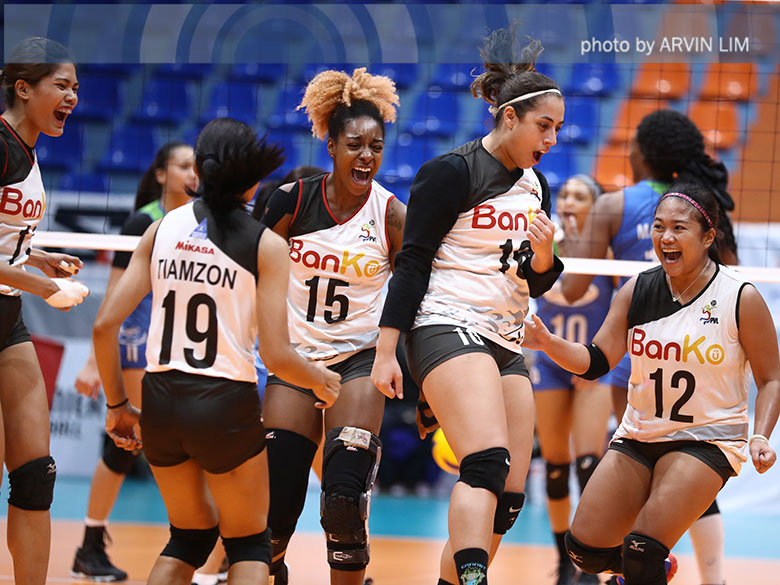 1) THE GRAND FANS DAY IN TRINOMA
This season started with a bang with a Grand Fans Day at the TriNoma Activity Center that brought together fans and the players from both men's and women's divisions in one venue. Team supporters were not only able to take selfies with their idols, some also got to play with them for prizes on stage. Other highlights of that day were the reveal of the teams' new jerseys and the presentation of a volleyball to kids from ABS-CBN Sports' Heroes Volleyball Camp to symbolize the organization's commitment to its sports advocacy.
2) NEW TEAMS TO CHAMPION VOLLEYBALL
This conference, we saw the emergence of new champions of Philippine volleyball. These are companies and organizations that have invested on teams to continue to strengthen and grow the local volleyball community. Joining Creamline, Pocari Sweat, BanKo, Bali Pure, Iriga City-Philippine Navy in PVL are PayMaya, Tacloban, and Petro Gazz that fielded in their respected teams in the women's division. At the men's side, Vice Co. also took its chance against the established teams of IEM, Cignal HD, PLDT Home Fibr, Philippine Air Force, and Philippine Army, even reaching the semifinals.
3) BOOSTED LINE-UPS AND STARS COMING TOGETHER
We knew the Cool Smashers were serious about getting the title when they bolstered their lineup further by adding former Lady Warriors Michele Gumabao and Melissa Gohing in their roster. Not to be outdone, the duo's former team Pocari Sweat merged with the Philippine Air Force to give us a starting six that includes legendary setter Wendy Semana, towering Dell Palomata, PVL MVP Myla Pablo, and Jeanette Panaga. Over at PayMaya, we saw the union of coach Roger Gorayeb's former wards with erstwhile San Sebastian Lady Stags Grethcel Soltones and Best Libero Alyssa Eroa teaming up with NU Lady Bulldogs Jasmine Nabor, Aiko Urdas, and Jorelle Singh. BanKo Perlas, meanwhile, is a combination of Ateneo, UP, Adamson, and UE's best with Jem Ferrer, Nicole Tiamzon, Amanda Villanueva, and Suzanne Roces joining forces.
4) EXCITING FOREIGN GUEST PLAYERS
We saw the level of competition in the league rise to another level with the entry of some of the most talented foreign volleyball athletes to play in the Philippines. Our jaws dropped whenever the likes of Ari Love (Pocari) and Kia Bright (BanKo) soared for a kill. We were in awe with the all-around game of Thai reinforcements like Kuttika Kaewpin (Creamline) and Amporn Hyapha (Tacloban), and were blown away by the sheer power of Olena Limareva-Flink (Petro Gazz) and Lauren Whyte (Iriga-Navy). American guest players like Janisa Johnson (BaliPure) and PVL Best Foreign Guest Player Tess Rountree (PayMaya) also showed incredible leadership as they would rally, and at times, carry their teams to victory.
5) FUN, COMPETITIVE MATCHES
Of the 53 matches played in this conference, there were a total of 14 five-setters and 18 matches decided in four sets, in the women's division alone. While there were 21 times that matches ended in a sweep, many of those were still very pretty competitive. No wonder fans have showed up to watch the games live in the venue. There was also a huge clamor to air more games on television, which PVL and ABS-CBN Sports delivered. We owe this all to the girls and their coaching staff who always come in the games ready to give their all and put on a good show for the fans.
While we wait for the PVL Season 2 Collegiate Conference to start, we can still relive the action in the Reinforced Conference by watching the matches on sports.abs-cbn.com or the replays on S+A and S+A HD.