Two of the country's best drama and comedy actresses, Judy Ann Santos and Angelica Panganiban, are back to bring Filipinos laughter to KBO viewers as it airs "Ang Dalawang Mrs. Reyes" this weekend.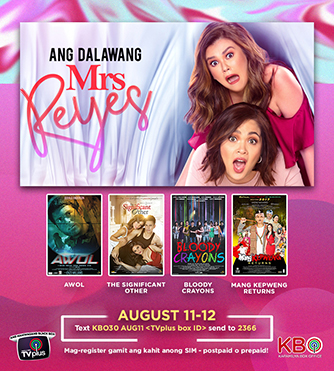 As the two Mrs. Reyeses try to get back on their husbands for cheating on them with each other, Lianne (Judy Ann) and Cindy (Angelica) encounters a series of unfortunate and funny events. Let's look back on the moments that had us all laughing before we experience the movie all over again.
1. The first encounter between Cindy and Lianne
A tongue-twisting exchange between Cindy and Lianne happens as Cindy introduces herself to Lianne saying, "Ako si Mrs. Reyes. Ako ang asawa ng inaasawa ng asawa mo. Pero pwede mo akong tawaging Cindy." To which, Lianne retorts, "What makes you think na asawa ko ang umaasawa sa asawa mo? Hindi ba puwedeng asawa mo ang umasawa sa asawa ko?"
2. When they see their husbands enjoying the gay pride parade in Taiwan
The two wives fly to Taiwan as their suspicions of their husbands having an affair becomes stronger. What sends shockwaves up their spines is the realization that the two men are having an affair with each other.
3. When Lianne tries to seduce her husband
Lianne tries to seduce her husband to make up for her shortcomings and to spice up their marriage. Instead of being seduced, Gary reacts in the least amusing way: "My God!"
4. When Lianne and Cindy goes to a gay bar
Our two protagonists went to a gay bar to try to understand the way of life of gay people. As Lianne makes a claim that she supports the LGBT community, a gigolo suddenly corrects her saying that the whole acronoym of the community is LGBTQQIP2SAA. Cindy, meanwhile, comments that even the colors of the rainbow which the community uses as a symbol only has seven letters: ROYGBIV.
5. When Cindy's cat reacts to her monologues
When Cindy woke up looking for her husband and started talking to herself about her husband's sexuality, her cat – which must have seen the truth all this time – reacts by making purring sounds.
Relive these scenes and many more this Saturday (Aug. 11) and Sunday (Aug. 12). Joining the line-up also is "AWOL," "The Significant Other," "Bloody Crayons," and "Mang Kepweng Returns."
You may register using any prepaid or postpaid SIM. For prepaid, just load up (Globe, TM, Smart, Sun, or TNT) with P30; press the green / INFO button on your TVplus box remote to get your box ID; then text KBO30 AUG11 <TVplus box ID> to 2366.
For updates, follow @abscbnpr on Facebook, Twitter, and Instagram or visitwww.abscbnpr.com.