A gruesome tale about a child's love for his mother, a killing spree, and a mythical cave that demands lives in exchange for wishes will keep horror junkies guessing until the end when they watch iWant's original gore-horror thriller "Ma."
The film, which is now streaming for free on the new iWant, revolves around Samuel, a boy whose inner evil is awakened by his desire to bring his mother (Glydel Mercado) back to life.
After his mother dies, Samuel enters a mythical cave, which is believed by many to grant wishes. He asks the cave to revive his mother, but in return, the cave demands him to sacrifice another life as an offering. How far will Samuel will go keep his mother alive?
The iWant original film has also impressed and earned praises from respected names in the industry.
Acclaimed writer Lilit Reyes, who co-wrote the multi-awarded film "Changing Partners" said, "'Ma' provokes our notions on motherhood, love for family and sacrifices, in a competently executed dark and isolated world, with a series of riddles that build up to a brave finale. It doesn't hesitate to be unexpectedly meaner than its slow burn darkness. And its epilogue punctuates with a wickedly uneasy resolution on how far we would go for love and its losses. And it introduces us to a director with a powerful potential to awaken the untapped evil in the recesses of our minds."
Director Victor Villanueva, who directed the critically acclaimed movie "Patay Na si Hesus," also expressed his admiration for the movie, "I was surprised. The film was very unexpected. It wasn't the usual horror film… It was very moody and I got really engrossed. I really like the visuals. I am definitely recommending 'Ma.'"
Theater/Film enthusiast Manuel Pangaruy, meanwhile, said, "Slow burn s'ya and yet sa buong running time, buo ang discomfort na binibigay ng visuals at ang mismong tema nito. Bihira ang ganyang power sa landscape ng horror sa recent Philippine Cinema."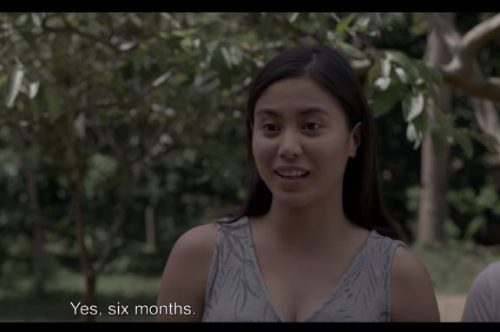 "Ma" is directed by Kenneth Lim Dagatan and also stars Alessandra Malonzo, Enzo Osorio, Kate Alejandrino, Rafael Siguion-Reyna, Ian Curtis, and Susan Africa.
Viewers may stream "Ma" for free on the new iWant, which is available to users in the country in iOS and Android apps and through the web on iwant.ph.