Beauty queen Abbygale Arenas-de Leon divulged some of her tips on exuding poise and projecting effective body language in a book tour for her "88 Things Every Professional Should Know… or else" manual published by ABS-CBN Publishing, Inc.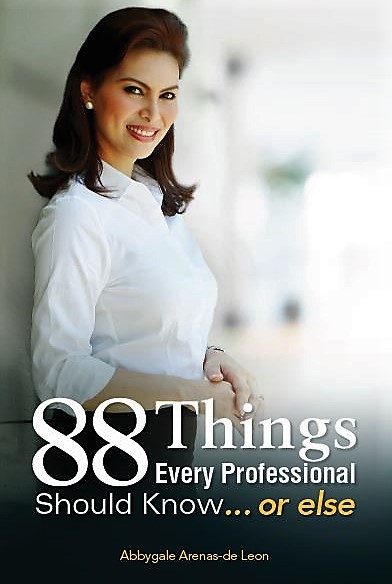 "I have been an image consultant for the longest time. When I realized I cannot talk to millions of people, I decided to write a book. If you open a random message [from the book], it gives you everything that a professional can do to help them," said Abby, a former Bb. Pilipinas-Universe.
Organized by Personi-fi Image Studio Inc., the event dubbed "Etiquette and Poise" held at Romulo Café in Quezon City, highlighted a talk from the sought-after corporate trainer as well as demonstrations on power dressing and personal grooming.
"I'd like this to be my legacy –that makeup is easy, that posture is easy, and that they are important. It can turn an unemployed person to an employed person all because of how he carries himself," she added.
Abby's "88 Things Every Professional Should Know… or else" book includes carefully chosen guide that "are not rules actually but are reminders" on how to make a good impression in everyday encounters. Among those she shared during the event are:
Learn to smile the right way. Have happy thoughts, happy lines, and say the letter 'A' or number '8' for two minutes daily for two weeks to develop that perfect smile. Not only does smile make everyone look more beautiful, it also makes people sound more pleasant.
Achieve perfect posture using the right position of the neck, shoulders, lower back, and legs. She said that the body is just too heavy to be carried by just one leg; posture is when we balance our weight using both legs.
Lean forward. Whether for business or social gatherings, a forward lean will help lessen the distance between you and another person, which reflects your interest and casts importance to the person you are talking to.
Make eye contact –a very powerful gesture to show that you value the time and presence of the person you are talking to.
Exude poise. Simply put, poise is a conscious and controlled effort to move, stand, or perform an act gracefully. This projects a confident and refined way of carrying one's self.
The book's latest edition includes manners and etiquette reminders, food and dining guide, and keys to wellness to take care of one's body. The handy manual also features tips on how to avoid fashion misdemeanors and conversational pitfalls, and how to control attitude and behavior in public.
A former model and professional makeup artist, Abby is a certified image consultant recognized by the Association of Image Consultants International.
Read more of her useful reminders in "88 Things Every Professional Should Know… or else," available in leading newsstands and bookstores nationwide for only P345.