Young aspiring filmmakers will once again have the chance to show their documentaries to a national audience through ABS-CBN's "Class Project: An Intercollegiate Mini-Documentary Competition," which kicked off this August and is now accepting entries.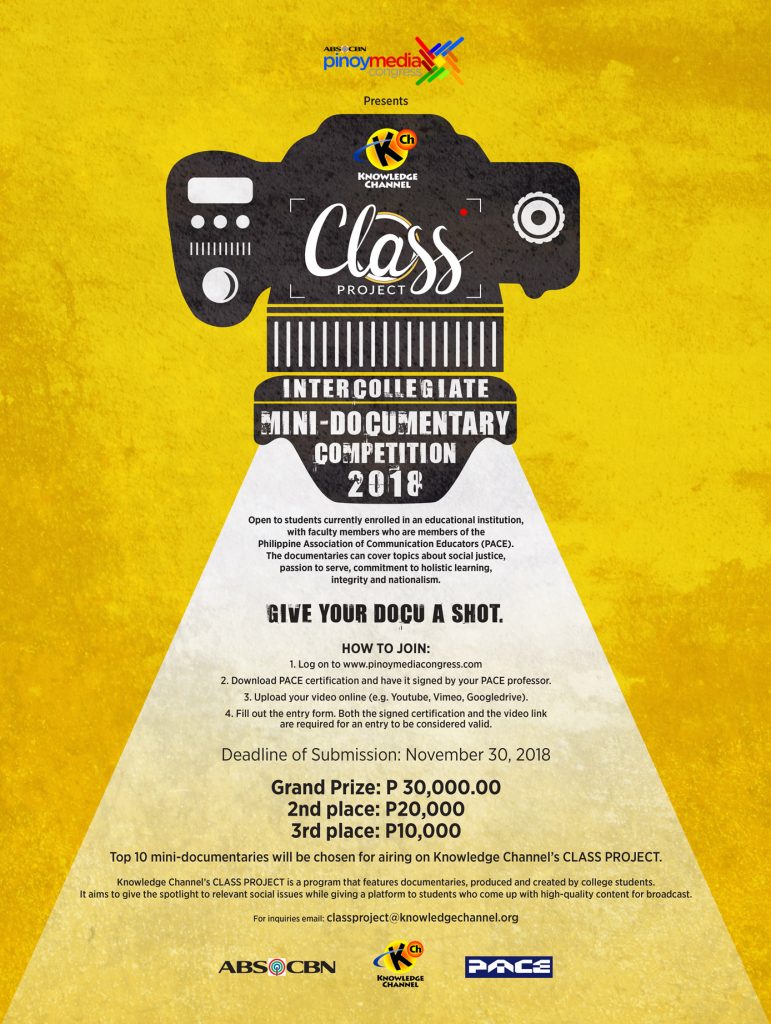 Now on its second year, "Class Project" aims to provide students with an opportunity to showcase their work and contribute to the body of knowledge and media available to the Filipino youth. The winning documentaries will be aired on the program "Class Project" on the country's only local educational channel Knowledge Channel, while the teams behind them also win trophies and cash prizes.
Eligible college students from Philippine Association for Communication Educators (PACE) member schools can submit until November 30, 2018 relevant educational documentaries that feature Knowledge Channel's values of social justice, passion to serve, commitment to holistic learning, integrity, and nationalism and with a total running time of 12 to 15 minutes.
The documentaries will go through a three-level judging process conducted by ABS-CBN to choose the Top 10 entries. Last year's winners included De La Salle University-Dasmarinas students' entry "Lupang Pinangako: Mga Rizalista ng Ronggot," a documentary on a community of devout believers of Jose Rizal as a deity, "Basilica" from students at the Lyceum of the Philippines University-Laguna that focused on the controversies surrounding the national historical shrine Taal Basilica, and "Manila Sound: Sunshine of the 70's," from students at Southville International School and Colleges that was about the rise of original Pilipino music (OPM) in that decade.
The winners will be awarded during the "Pinoy Media Congress Year 13" (PMC) in February 2019. In partnership with PACE, ABS-CBN gathers communication professors and students from all over the country in the annual conference to learn the latest trends and issues in media and communication. Last year, PMC had over 1,000 delegates at the College of the Holy Spirit Manila and Cebu Technological University, who learned from the likes of media luminaries Ricky Lee and ABS-CBN head of Integrated News & Current Affairs Ging Reyes, journalist Jeff Canoy, and actress-screenwriter Bela Padilla.
Meanwhile, ABS-CBN will also hold a "Docu Caravan" together with Knowledge Channel and ABS-CBN Integrated News & Current Affairs starting this September to teach and inspire students to create informative and relevant documentaries.
For more information on the rules, mechanics, and prizes for the "Class Project: Intercollegiate Mini-Documentary Competition," visit www.pinoymediacongress.com. Inquiries can also be sent to classproject@knowledgechannel.org.