ABS-CBN will take part in the world's biggest gathering for bookworms the "Big Bad Wolf Book Sale" as it finally arrives in the Philippines to celebrate the joys of reading among Filipinos through a gigantic fair happening on February 16 to 25 at the World Trade Center.
For the first time ever, the "Big Bad Wolf Book Sale" is all set to deliver two million printed manuals in the country to be sold at 60-80% less than its selling price, and the Kapamilya network supports this endeavor to make reading more affordable to hundreds of thousands of readers expected to visit this exciting book festival.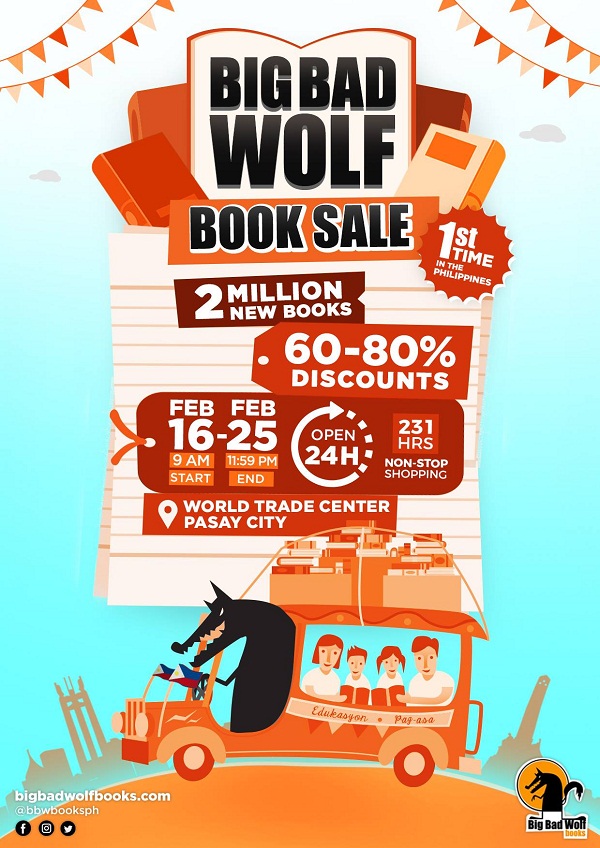 Exciting displays and book signing events await visitors at the ABS-CBN booth, where they can meet and greet authors of the bestselling ABS-CBN Publishing (API) manuals such as Alex Gonzaga (("Dear Alex, We're Dating! Tama, Mali?! Love Catherine"), Gloc-9 ("Akin Lang Naman"), Nina Corpuz ("How To Raise A Superstar"), Master Hanz Cua ("Chinese Astrology 2018" and "Feng Shui 101"), and Tommy Esguerra (featured celebrity in "Christian and Anne").
Aside from joining the fair, the network will be part of the "Library-In-A-Box" campaign through the ABS-CBN Lingkod Kapamilya Foundation, Inc., where celebrities get to shop for books that will be given to chosen public schools with aim to provide for their respective libraries and advocate learning among students.
The "Big Bad Wolf Book Sale" will present all genres of reading materials – children, young adult, fiction, and nonfiction – as treat to the whole family. It also offers free admission and operates 24/7.
The world-renowned book fiesta began in Malaysia in 2009, and it holds record-breaking sales in other countries, such as in Bangkok with 3.5 million books sold and 700,000 visitors in 2016, and in Jakarta with 3.5 million books sold and 600,000 visitors in 2017.
Catch the "Big Bad Wolf Book Sale" at the World Trade Center on Feb. 16 (Friday), 9am until February 25, 11:59pm. Visit the ABS-CBN booth and check out API's amazing book collection.