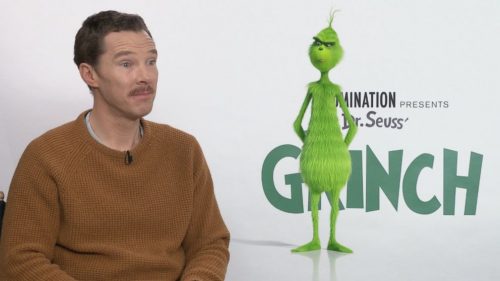 Doctor Strange himself, Benedict Cumberbatch gives a distinctive version of the titular character that has a lot of humanity but also finds the comedic, wicked side, in Universal Pictures and Illumination's new comedy adventure The Grinch.
Cumberbatch's Grinch is more mischievous than cruel, more cranky than merely mean. His motivation in stealing Christmas isn't to punish the Whos, but to simply make all the Christmas madness stop so that he doesn't have to deal with it.
And he's struggling with his own issues. He's beleaguered and bothered by all the holiday chaos. Case in point, he's forced to descend into Whoville because he runs out of food. He had stocked up enough to get him through Christmas, but the stress of the holidays have lead to him emotionally eating, so his cupboards are bare.
"The character has always been perceived by those around him as somewhat of an outlaw," producer Chris Meledandri says. "But one of my favorite parts of our telling of this story — and its embodied in the original imagery that Theodor Geisel drew — was the notion that this character is in self-elected exile, living in opposition to those around him, wanting to steal their most joyous time of year, but by the end of the story there's clearly forgiveness, and there's redemption for the character. Those two elements — forgiveness and redemption —are such important parts of our societal cultures, but we sometimes lose touch with them."
Cumberbatch was drawn to the role for two major reasons. The first, he says, was that Illumination was making the movie. "Their stable is filled to the rafters with fantastic films, and the movies are witty, smart, moving, and there's goodness in them," he says. "With this film, they had great reverence for the original book, which I did, too. And they're just great to collaborate with."
The second reason was the filmmakers' decision to dive into the Grinch's backstory and psychological makeup. "It was important to me that we told the story of someone who had a reason for his behavior, before his conversion," Cumberbatch says. "Once you understand why Christmas is painful for him, you kind of root for him a little." Plus, he says, playing the Grinch was often just great fun. "I think everyone gets a vicarious thrill out of how the Grinch behaves, the curmudgeon-liness of the guy," he says. "He's funny, and hopefully that is what's going to be memorable about this Grinch. He's very witty and he's self-aware. His heart may be two sizes too small, but there's a very strong beating heart to this film."
In Philippine cinemas November 28, The Grinch is distributed in the Philippines by United International Pictures through Columbia Pictures.