Sofitel Philippine Plaza Manila ushers in the Lunar New Year with a bountiful feast prepared by Spiral's resident Chinese Chef, Chef Michael Tai. Indulge in a gastronomic journey featuring specialties that celebrate felicity and great happiness as Spiral celebrates the Year of the Dog.
"The Year of the Dog is all about the Chinese concept of He Jia Huan Le which means felicity and intense happiness in the family, bringing about positive relationships. I have prepared a grand feast for families to share as they welcome prosperity, happiness and good fortune into their lives," shares Chef Michael Tai.
The featured menu showcases recipes popular in China, Malaysia and Singapore and have been served to royalty in Imperial China. Enjoy dishes for overflowing felicity with the Double-Boiled Mini Buddha Soup, a shark's fin soup of Chinese Fujian cuisine; Manchu Hot Pot popular in Mainland China and composed of pork, mutton, dried chilli and pink peppercorn; the luxurious Braised Abalone with Goose Web, a popular dish served during Chinese New Year and signifies abundance and wealth; Beijing-style Peking Duck Wrap served to the Mongol emperor of the Imperial Yuan Dynasty; Dezhou Braised Chicken, a traditional delicacy from China's Shandong Province created during the reign of Emperor Guangxu of the Qing Dynasty; Sha Qui Ma, a meticulously-made delicacy of Manchu cuisine popular in mainland China and rarely available in the Philippines; and the Double Boiled Bird's Nest with Rock Sugar made with premium sweetened bird saliva sourced from Indonesian wild edible-nest swiftlets and considered the "Caviar of the East."
Spiral welcomes the Year of the Dog in festive style with a traditional Dragon Dance and breathtaking performances from featured Chinese acrobats. Get a glimpse of what the future has in store for you with Spiral's special fortune cookies.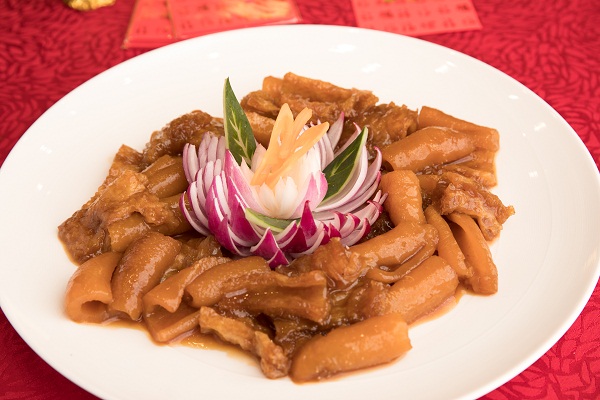 Celebrate Chinese New Year with family, friends and loved ones at Spiral available at the following rates:
• February 15 – 16, 2018: Php2,850 nett per person for lunch and Php3,450 nett per person for dinner
• February 17, 2018: Php3,600 nett per person for lunch and Php3,900 nett per person for dinner
• February 18, 2018: Php4,650 nett per person for lunch and Php3,500 nett per person for dinner
TRADITIONAL CHINESE NEW YEAR MENU AT SPIRAL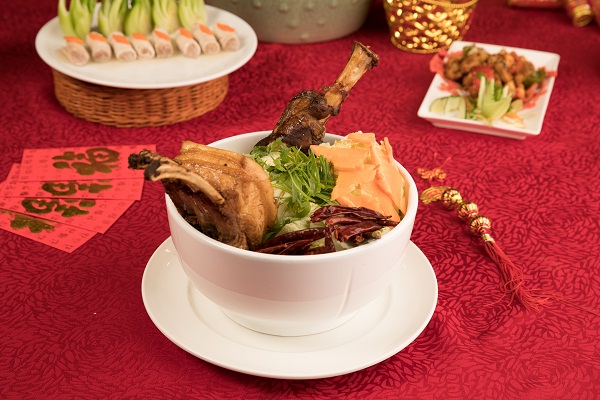 Drunken Pork Knuckle
A signature dish in traditional Cantonese cuisine, this slow braised pork knuckle with pink peppercorn is said to have originated from the ancient Ming Dynasty. It was customarily served to new mothers in Guangzhou to restore their strength and health and was prepared to celebrate the birth of a child.
Steamed Fish Roll Stuffed with Minced Mutton
In China, fish symbolizes prosperity while rolls represent wealth. Mutton, which refers to sheep flesh, symbolizes luck in Chinese culture as the sheep is considered a very lucky animal and plays a role in several myths and tales. The written character for "sheep" is often used for "luck" thus the association of sheep to good fortune.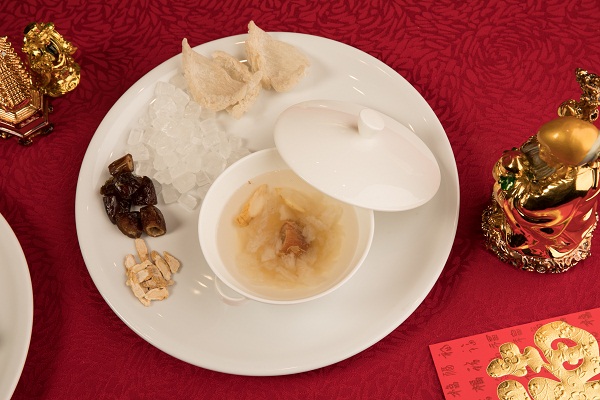 Braised Sea Cucumber with Beef Tendon
Eating a dish with sea cucumber is extremely lucky for a new family and presents several health benefits. Sea cucumber is pronounced "haishen" in Chinese, which sounds like "sheng," the Chinese word for "give birth." This symbolizes that a family may be blessed with a newborn during the year.
Dragon Phoenix Platter
The Dragon Phoenix Platter is composed of salted egg yolk crab, fried eel with spicy sauce, black pepper crocodile, prawn with cereal butter and Singapore-style fried chicken wing. "Dragon and phoenix" usually refer to a powerful match between strong entities. It is a great symbol for marriage or twins that are a boy and a girl. "Phoenix" usually suggests poultry or more commonly, chicken. "Dragon" could be fish, snake, a reptile, or even a good cut of pork, though fish is the most common.
Salt and Pepper Sea Mantis
The mantis shrimp is one of staple dishes served during Chinese New Year. In Cantonese cuisine, the mantis shrimp is known as "pissing shrimp" because of their tendency to shoot a jet of water when picked up. After cooking, their flesh are akin to that of a lobster; their shells are become quite hard and require some pressure to crack.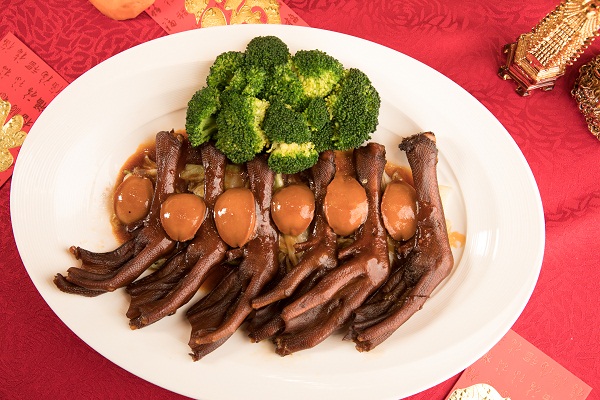 Kung Pao Fried Legs
Kung Pao Fried Legs is a popular dish served during Chinese New Year that originated from the
Sichuan region in South-Western China.
Long Life Noodles
Long Life Noodles (also known as Yi Mein) symbolize longevity and is frequently found on the banquet table of Chinese celebrations. Noodles generally signify long life, however the festive Yi Mein noodles are traditionally served during New Year with its unique texture and taste. Noodles also represent prosperity and good luck.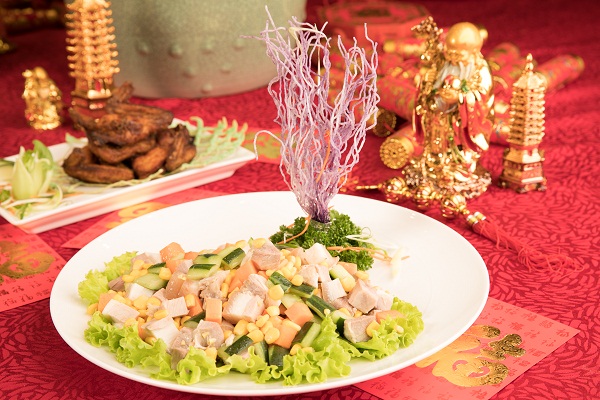 Treasure Fried Rice
This quintessential Chinese comfort food is served with lotus leaf. Fried rice is believed to have been invented sometime during the Sui dynasty in the Chinese city of Yangzhou with its ingredients signifying treasures.
Egg Tart
The egg tart reportedly originated from 1920s Guangzhou when Chinese chefs were inspired by fruit tarts, replacing the fruit with egg custards in the middle. With tough competitions between department stores, the chefs invented new dim sum or dessert weekly as part of restaurant attractions with the egg tarts making their first appearance. Egg tarts are also widely popular in Hong Kong and Macau.
HONG KONG CLAY POT MENU AT LE BAR
Indulge in sumptuous Hong Kong cuisine with a selection of dishes cooked and served on a claypot. Celebrate Chinese New Year in Le Bar's intimate setting featuring Yellow Wine Chicken in claypot and Braised Pork Belly with Yam and Vegetables in claypot. This limited offering is available on the 16th of February until the 2nd of March 2018. Rate is set at Php799 nett per person.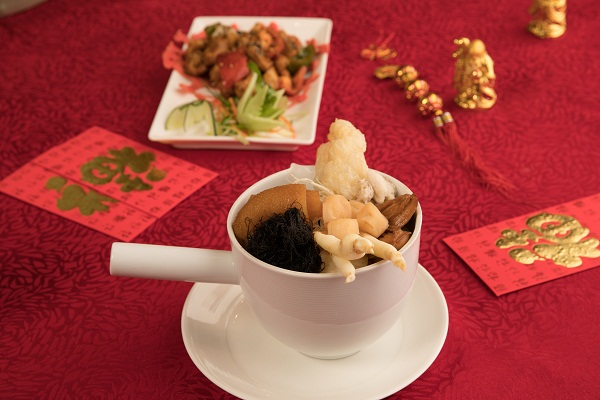 CHINESE NEW YEAR AT SUNSET BAR
Experience the vibrant atmosphere of Chinatown as Sunset Bar presents its signature barbecue buffet on the 15th – 16th of February 2018. Indulge in elevated offerings of grilled specialties and Chinese cuisine favorites in hawker setting with live musical entertainment and a fire dance showcase. Witness the sky burst into a palette of colors with a fireworks display on the 15th of February 2018.
Rate is set at Php3,500 nett per person inclusive of unlimited local beer, iced tea, special cocktails and wines.
For inquiries and reservations, please call F&B Reservations at +63 (02) 832 6988.