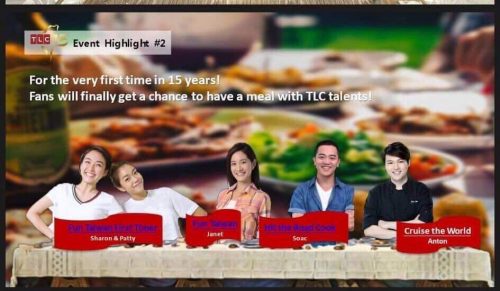 Celebrity Chef Anton Amoncio feels honored to grace the TLC Feast at the Song Shan Cultural Park in Taipei City, Taiwan from October 26 to 28. The three-day event is in celebration of TLC Taiwan's 15th Anniversary. The exciting affair has various themes for each day: Celebration (Day 1), Love (Day 2), and Travel (Day 3).
"This event is usually held outdoors, but for the first time ever, it would be held indoors. It is pretty exciting because it is the 15th anniversary of TLC and it would be the first time where TLC talents are able to eat and hang out with fans," shares Chef Anton.
Chef Anton is excited to be part of the TLC event for the first time. "I feel so blessed for this opportunity. It is going to be a fun event with lots of activities and, most importantly, we get to hang out with fans of the shows and the network." Among the various activities that await Chef Anton during the TLC Feast are press conference, consumer and dinner events.
Chef Anton will hang together in the TLC Feast with TLC mainstays Sharon (Fun Taiwan First Timer), Patty (30 Meters Underwater), Janet (Fun Taiwan), and Soac (Hit the Road Cook).
As self-confessed fan of TLC shows, Chef Anton says, "I love Fun Taiwan First Timer and I cannot wait to see Patty's diving show."
Participants will get to savor Chef Anton's to-die-for dishes like the deconstructed Kaldereta and Lumpiang Sariwa which he has chosen to cook at the TLC Feast.
Chef Anton first visited Taiwan when he was eight years old. He says, "I love Taiwan. The people are so amazing and friendly. Please don't get me started with their food! I love them all! Haha. They were once colonized by the Japanese, and it greatly shows in their cuisine."
Can't get enough of Chef Anton? Then watch out for his upcoming show, Cruise the World, which will be produced by TLC. "This one was really fun to do. In this show, I traveled with a stranger, in this case it was Patty. We did a lot of fun activities together and it was a blast. I do hope they watch out for it and enjoy as much as we had fun filming it."
The future looks bright for Chef Anton. "I hope to get more travel shows. I have recently tried acting and fell in love with it. I look forward to getting more projects in the near future."
Is he close to fulfilling his dreams? "Not yet. I still have a long way to go but I am extremely thankful to God and to everyone that has helped me get to this point. I wouldn't be here without their help."
Chef Anton Amoncio is a talent of Asian Artists Agency. For inquiries, please call (02) 855-4765 or (02) 405-4423, email info@asianartistsagency.com, and visit fb.com/asianartistsagency