Award-winning actor Christian Bables top bills in the short film titled A Love Story In The Time of HIV, one of the three short films featured in A Trilogy of Love Stories. The other films are Young Love and To Love and Not be Loved. All three short films were directed by Lemuel Lorca and written by John Bedia.
A Trilogy of Love Stories will have its premiere night (by invitation only) on May 17 (7:00 pm) at Trinoma Cinema 6. Executive producers are QC Vice Mayor Joy Belmonte and Boy Abunda.
A Love Story In The Time of HIV also stars Aaron Rivera.
Christian Bables has always been passionate about acting. "Maybe I had it in me since the day I was in my mother's womb. But I guess it was in my college years that I learned how to use my talent properly. My first role as an actor was a hitch hiker with a girlfriend dying of leukemia. The character's name was Rino," Christian shares.
As an actor, Christian believes that his heart is his core. "I am not afraid to jump off a cliff and be torn into pieces. I do not act to perform. I act to be reminded how beautiful life is and that there's a chance for me to win every chaos life may bring."
He explains that being an actor allows him to express himself, touch other people's lives, and express his passion. "I always believe that everything is about choices. As long as I choose to do what is right and do what satisfies my heart and God, then I know I'll be fine. I put my trust in God and let go. His purpose is always better than the promises of this world."
Christian takes his work seriously. "I improve my craft by making sure that I am intact with my core – who I am as a person. I prevent myself from being jaded. I observe people a lot. Most importantly, I value the importance of training and preparation."
How does he see himself 10 years from now? "A successful artist. I envision myself to be in the international acting scene 10 years from now. I will be directing and producing movies for local and international markets. And I will be having a stable life and business. I'm claiming it!"
Christian is part of an upcoming ABS-CBN soap titled Love Will Lead You Back. In the series, Christian plays Barry Bartolome who is the boss and bestfriend of Lino Bartolome, Jericho Rosales' character.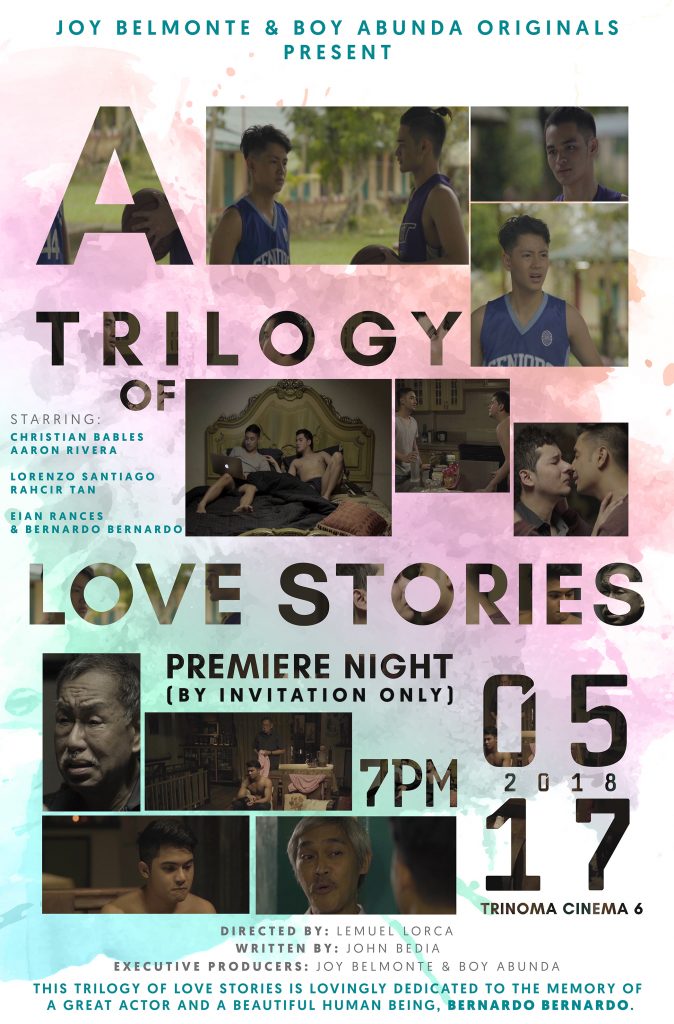 A Trilogy of Love Stories also stars Lorenzo Santiago and Rahcir Tan (Young Love) and Eian Rances and Bernardo Bernardo (To Love and Not Be Loved which is also Bernardo Bernardo's last work for cinema).
The premiere night on May 17 coincides with the celebration of International Day Against Homophobia and Transphobia (IDAHOT).
Christian Bables is a talent of Asian Artists Agency. For inquiries, please call (02) 855-4765 or (02) 405-4423, email info@asianartistsagency.com, and visit fb.com/asianartistsagency