Horror fans get treated to a scarefest on Star Cinema on SKY Pay-Per-View as it features "Da One That Ghost Away" and two more horror flicks until August 17.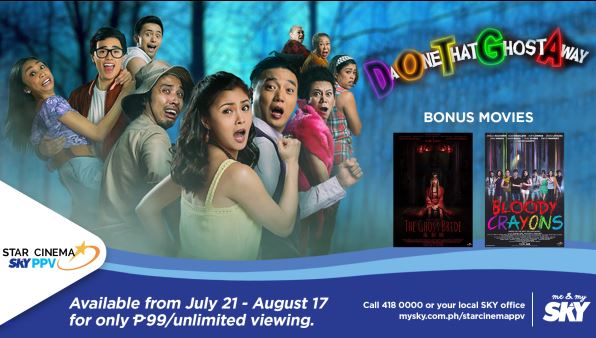 With a cast led by Kim Chiu and Ryan Bang, "DOTGA" is the story of Carmel (Kim), a paranormal expert trying to save her grandmother's house from being sequestered by forming a band of bogus ghost hunters.
As their luck runs out, the squad meets rich bachelor Jack (Enzo Pineda) who offers them a million pesos to exorcise his house of ghosts. Unfortunately for Carmel and her band of misfits, the spirits turn out to be real!
The hit loveteam of Maymay Entrata and Edward Barber, plus Enzo Pineda, Pepe Herrera, Moi Bien, and Lassy Marquez are also in the cast.
Subscribers can catch the spooktacular pay-per-view movie line-up along with "Ghost Bride," which is another Kim Chiu film, and "Bloody Crayons."
Enjoy these movies for only P99 in high or standard definition in the comfort of your home or on any device anytime, anywhere via SKY on Demand. This is available to SKYcable and One SKYsubscribers nationwide. To subscribe, call 418-0000 or your local SKY office, visit website or just text STARCINEMAPPV to 23662.
Register your SKY account number to Kapamilya Thank You by logging on to thankyou.abs-cbn.com and receive points from any of your SKY subscription. You may use this points for SKY bill rebates, buy tickets for ABS-CBN shows, and more.