Planning family meals can be a challenge, especially if you want your family to eat healthier. Despite their best intentions, most people end up falling into a habit of serving whatever they've grown used to making, or worse, relying on takeout!
There's also the challenge of keeping mealtimes fresh and interesting. After all, nobody wants to eat the same kind of salad three days in a row. And don't even get us started on picky eaters! Some family members could just be stubbornly against a change in their regular diet, while some may be picky eaters. Then there's the normal dietary restrictions for family members who have sworn off rice, or sugar, or meat, or processed food. What's a mom to do?
Don't worry, we have you covered. Gold Seas Tuna Chunks have worked hand in hand with moms and meal planners all over the country to bring you recipes that are not only good for the body, but will also delight even finicky family members.
Wholesome and filling
On cold and nights, we all want some warmth and comfort. This December, liven up your dinner table with a steaming serving of Gold Seas Tuna Shepherd's Pie. Rich in flavor and very filling, this low-fat, low-cholesterol dish also serves up a heaping helping of calcium, potassium, lycopene, magnesium, and vitamins C and B6.
What's more, it's a very easy meal to whip up. Simply prepare the filling beforehand, and make the potato topping just before dinnertime. Pop the whole casserole a preheated oven for fifteen minutes, and you're done!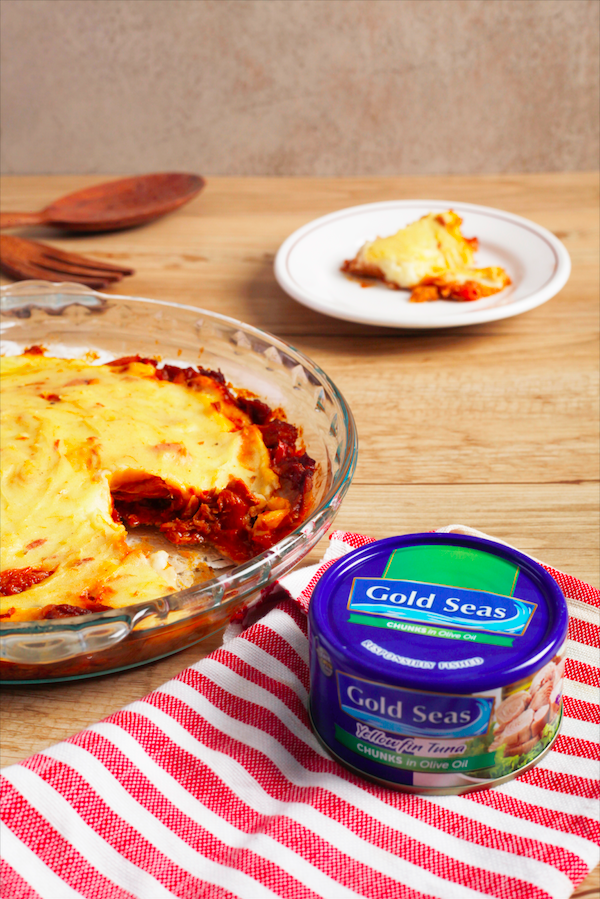 Tuna Shepherd's Pie
Yield: 1 9-inch pie pan
Prep Time: 20 mins
Cook Time: 45 mins
Tuna Filling Ingredients:

2 185g cans Gold Seas Yellowfin Tuna Chunks in Olive Oil

2 medium size onions (diced)

2 cloves garlic (minced)

1 medium sized carrot (diced)

1 tsp paprika

½ tsp cayenne pepper

2 tbsp tomato paste

1 can diced tomato

1 tbsp oil

Salt

Pepper

Mashed Potato Ingredients:

3 Large Potatoes (peeled)

½ cup butter

¼ cup milk

¼ cup sour cream

Salt

Pepper
Tuna Filling Procedure:
Heat oil. Sweat the onions, garlic, and carrots in a skillet.
Add the paprika, cayenne pepper, and tomato paste.
Saute the tuna. Add diced tomato. Simmer for 10 mins.
Add salt and pepper to taste.
Mashed Potato Procedure:
Put the potatoes in boiling water. Cook until tender.
Mash the potatoes until smooth.
Mix in butter, milk, and sour cream.
Add salt and pepper to taste.
Tuna Shepherd's Pie Procedure:
Preheat oven to 350 degrees Fahrenheit.
Put the tuna filling in a pie pan.
Spread the mashed potato on top of the tuna filling.
Bake the pie for 15 mins or until the top becomes brown.
Serve warm.
Something warm and spicy
When the rains come, you just want to cuddle up with a good book or in front of the TV with your loved ones- not spend the entire afternoon stirring a stew!
This spicy soup is perfect for kids who turn up their noses at veggies – simply sneak the offensive greens in by cutting them up into tiny pieces. Your kids will never know that the colorful soup they're enjoying is jam-packed with nutrients, and everyone else will agree that sipping on something warm, spicy, and filling is a great way to spend a rainy day.
Spicy Tuna and Corn Chowder
Yield: 4
Prep Time: 20 mins
Cooking Time: 30 mins
Ingredients:

1 tbsp unsalted butter

1 tbsp flour

½ cup onions (diced)

¼ cup celery (diced)

¼ cup carrots (diced)

¼ cup potatoes (diced)

½ can corn kernels

1 185g can Gold Seas Yellowfin Tuna Chunks in Olive Oil with Chili

1 cup low sodium chicken broth

1 cup milk

½ cup cream

Salt

Pepper

Garnish:

Parsley (chopped)
Procedure:
Melt butter in a casserole. Add flour and mix until cooked through.
Saute onions and celery. Add carrots and potatoes and cook for about 3 mins.
Add corn kernels and can of tuna. Mix well.
Pour the chicken broth and milk. Simmer for 5 mins.
Pour cream and mix. Simmer until heated through.
Add salt and pepper to taste.
Garnish with parsley and serve warm.
Light and fun
What about the days when you're not really in the mood to have a heavy meal? Say, when you're just chilling over the weekend with your honey, or when you're having a very late meal and don't want to fill up?
That's what a good salad is for. This one in particular gives you not only the abundance of nutrients in the vegetables, but also a hearty serving of protein in the tuna chunks that will leave you feeling full, but not bloated.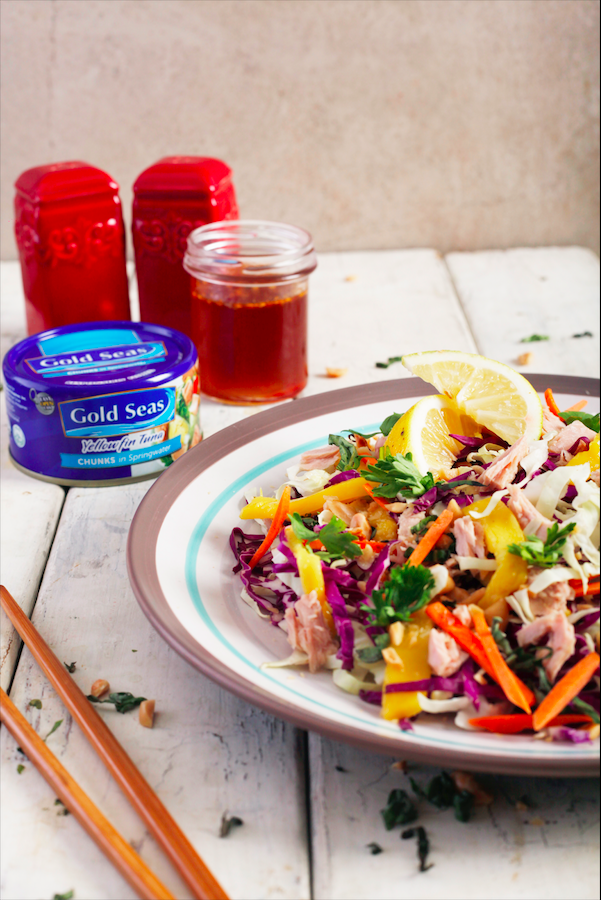 Tuna Thai Salad
Yield: 2
Prep Time: 15 mins
Cook Time: 10 mins
Ingredients:

1 185g can Gold Seas Yellowfin Tuna Chunks in Springwater

1 green mango (julienned)

5 pcs thai basil leaves (chopped finely)

4 cups red cabbage (shredded)

½ cup carrots (shredded)

Salad Dressing:

2 tbsp fish sauce

2 tbsp lime juice

½ tbsp. brown sugar

1 pc red chili

Toppings:

¼ cup peanuts (crushed)
Procedure:
Combine all the ingredients for the salad dressing
In a separate bowl, place all the salad ingredients.
Toss the ingredients with the salad dressing.
Top with the crushed peanuts. Serve.
Something for snacking
Don't turn to donuts or other sugary snacks when you're looking for something tasty to serve your family come merienda time! Not only do those snacks add inches to your waistline, but they're also nutritional black holes that have no nutritional value and will leave those who eat them hungry again in an hour or so.
Instead, whip up a batch of these potstickersthat contain an impressive content of nutrients for such a small package. Both its main ingredients are packed with protein, which is great for keeping the munchies at bay and building strong muscles and bones.
But that's not all- this is a one-two punch of powerfully yummy and yet very healthy ingredients. The cheese provides much-needed calcium, vitamin A and B12, zinc, riboflavin,and phosphorus, while the tuna bring antioxidants, omega-3 fatty acids, magnesium, iron, potassium, niacin, and selenium. It also provides you with a helping of vitamin B6 and B12.
But nobody ever thinks of all that as they bite into a tempting, chewy-crisp pocket of oozing cheese and tasty tuna!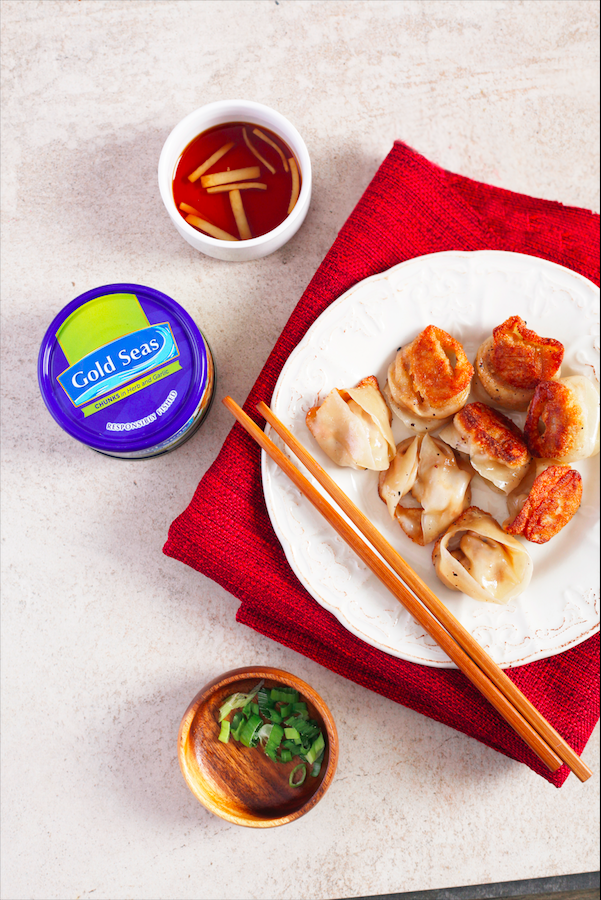 Tuna Mozzarella Potstickers
Yield: 12
Prep Time: 20 mins.
Cook Time: 15 mins.
Ingredients:

1 185g can Gold Seas Tuna Chunks in Herb and Garlic

1 cup cabbage (diced finely)

½ cup white onion (diced finely)

1 clove garlic minced

½ cup mozzarella

1 tbsp sesame oil

1 pack small round wanton wrapper

Salt

Pepper

2 tbsp. cooking oil

¼ cup water

Dipping Sauce

1 tsp ginger (sliced thinly)

3 tbsp rice vinegar

2 tbsp light soy sauce
Procedure:
In a bowl, mix together the tuna, cabbage, onion, garlic, mozzarella, and sesame oil
Add salt and pepper to taste.
Place a spoonful of filling on the wanton wrapper. Fold and seal by pinching the edges together.
Heat oil in a non-stick skillet.
Add dumplings making sure that there enough space between them.
Cook until the bottom is lightly browned. Add water in the pan and cover.
Lower down the heat and let the water simmer for 3-5 minutes.
Create a dipping sauce by mixing together the ginger, rice vinegar, and light soy sauce.
Remove lid from the skillet and continue cooking the potstickers until the bottom becomes crisp.
Serve hot with the dipping sauce.
For your sweet tooth
Craving for something sweet? Sugar doesn't have to be the only sweet thing in your diet. Surprisingly, a lot of vegetables, granted that you get them as fresh as possible, can be cooked in a way that makes them enticingly sweet and refreshing.
Sweet potato is a perfect example, and it's easily available at any market or grocery. Almost as easy as creating this dish from scratch.
Light, sweet, and creamy, this is the perfect treat for one of those days when you feel like cheating on your diet- but would rather not.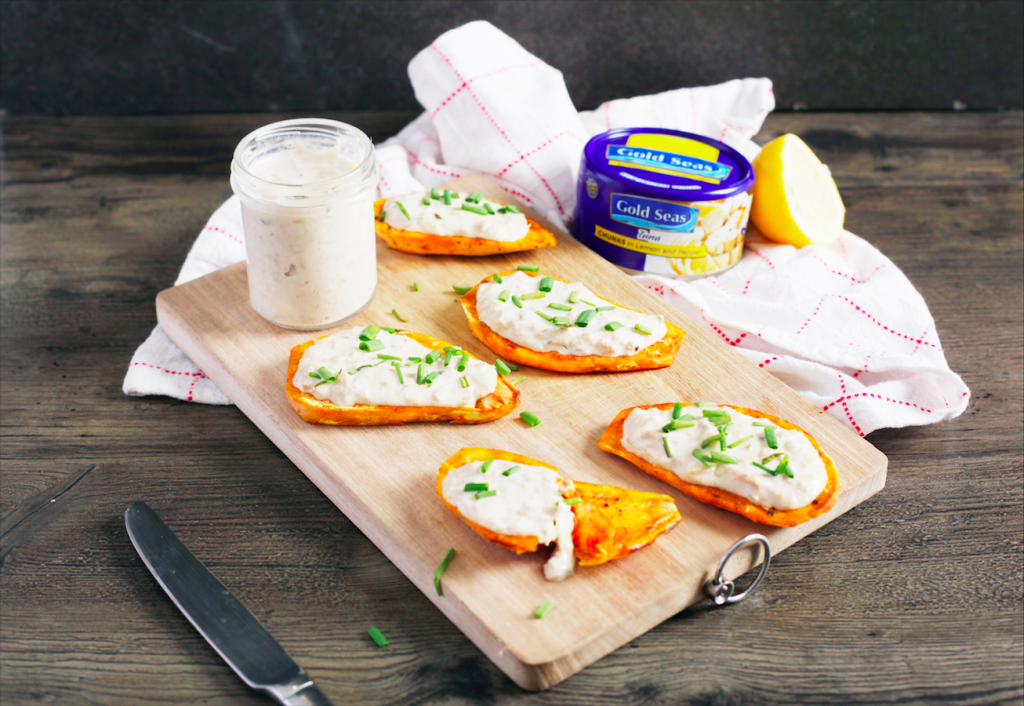 Creamy Tuna Sweet Potato Toast
Yield: 4
Prep Time: 15 mins
Cooking Time: 20 mins.
Sweet Potato Toast Ingredients:

1 large sweet potato (cut lengthwise about ¼ inch)

Olive oil

Salt

Pepper

Garnish

2 sprigs spring onion (chopped)

Creamy Tuna Toppings:

1 185g can Gold Seas Tuna Chunks in Lemon and Pepper

2 tbsp light mayonnaise

1 tbsp pickle relish

1 piece small onion (diced finely)

2 tbsp cream cheese

Salt

Pepper
Procedure:
Drizzle olive oil on the sweet potato. Add salt and pepper to taste on both sides.
Toast the sweet potato as you would toast your bread. (You might have to toast twice to cook through)
In a separate bowl, mix together all the creamy tuna ingredients. Add salt and pepper to taste.
Once the sweet potatoes have cooked through, spread the creamy tuna on top.
Garnish with spring onions. Serve.
That's a wrap!
Looking for something easy to make and take with you on the go? No need to stick with boring sandwiches and spreads- this wrap will make any lunch box a healthy delight! There's no need for extensive prepping, either. You can purchase the pita wrap (go with whole wheat for more fiber!) and throw everything together in less than half an hour!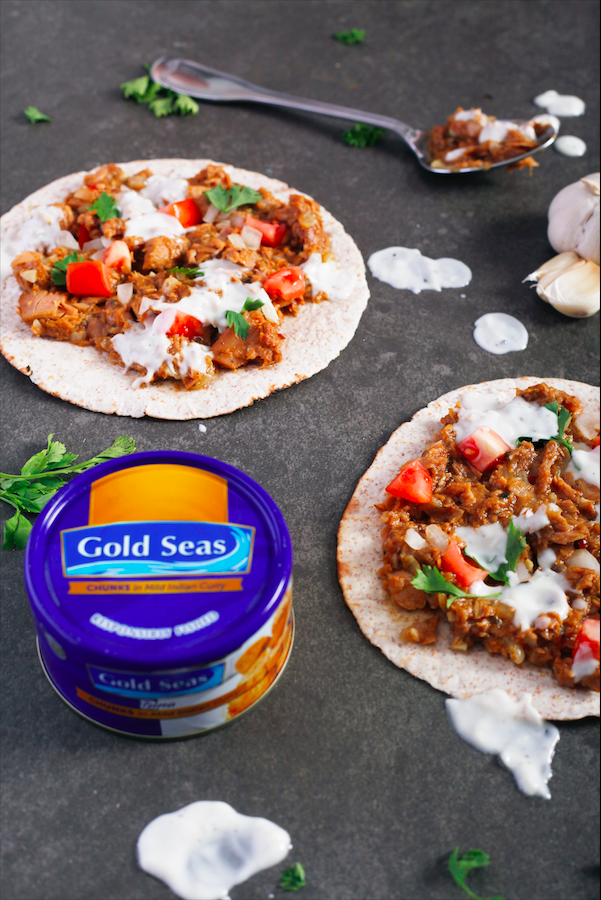 Curry Tuna Shawarma with Garlic Yogurt Sauce
Filling Ingredients:

1 185g can Gold Seas Tuna Chunks in Mild Indian Curry

1 piece small sized white onion (chopped)

2 cloves garlic (minced)

2 tbsp oil

Shawarma Wrap Ingredients:

1 pack store bought whole wheat tortilla

1 piece medium sized white onion (chopped)

1 piece medium sized red tomatoes (chopped)

Garlic Yogurt Sauce Ingredients:

1 small tub plain yogurt

1 clove garlic (grated)

1/8 tsp salt

1/8 tsp ground pepper
Yield: 4
Prep Time: 15 mins
Cooking Time: 15 min
Procedure:
Heat the oil in a pan.
Place onion in the pan and cook until caramelized.
Add in garlic and saute until fragrant.
Mix the can of curry tuna and simmer for 3 mins. Set aside.
In a bowl, mix together all the garlic yogurt sauce ingredient. Set aside.
Heat tortilla wrap over open flame. Prepare to assemble.
Place 2 tbsp. of the tuna shawarma filling on the heated tortilla.
Add some chopped onions and tomatoes.
Drizzle with the garlic yogurt sauce.
Roll into a tight wrap. Enjoy while warm!
These are just a few ways you can play around with Gold Seas Tuna Chunks and come up with interesting and delicious dishes that are good for the whole family. Try these out and you'll be surprised how easily you can come up with healthy meals all week, even inventing a few of your own dishes!