"Falling," the synth-pop hit from the debut full-length album of Singapore-based electronic pop/synthpop duo Cosmic Armchair will get its own music video and self-titled remix EP, both set to be available internationally for streaming/download on Friday 12 January 2018 via Belgian record label Alfa Matrix.
Featuring multi-award winning dancer Rachel Lee (from SCRACH MARCS), the music video sets Falling's wistful pop fittingly against the sentimental backdrops of Singapore. Penned as an ode to the joy of falling in love, Falling is described by Cosmic Jane as the duo's "first real love song," with a poetic backstory that's every bit human and grounded (literally) .
"I was actually inspired by a tree to write the song! There's this huge rain tree and I guess it's been there for many many decades so it started me thinking about what the tree has 'witnessed' all these years. Between clear blue skies and thunderstorms, breakups and celebrations, this tree still stood magnificently through it all.
I think sometimes we may forget that in the big scheme of things, there's still a lot of beauty and hope in the world. The song to me is a celebration of the beauty that's there if we just take the time to see." – Cosmic Jane
The Falling EP comprises two very different takes on the song by producer btcprox – a 'light' and 'dark' version that shows how a song can be tonally redrawn in different soundscapes, yet respecting the hopeful synth-pop of the original. A remix of "I Don't Belong Here" (the title track of CONTACT) by Jeff Hue rounds off the listening experience.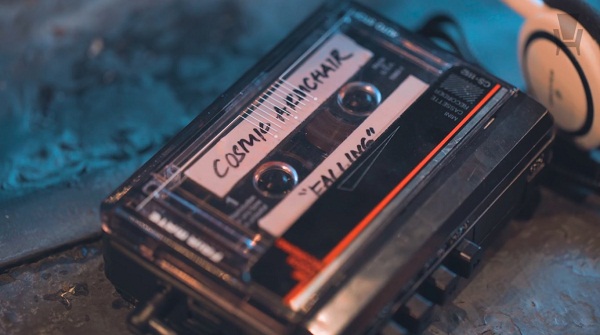 With their unique cocktail of synthwave and melodic synth-pop that also draws threads from new wave and electronica, it's no wonder that Cosmic Armchair has received positive noises from music critics, with CONTACT receiving airplay from respected niche internet radio stations like Real Synthetic Audio and The Fused Wireless Programme on Fylde Coast Radio, and  DANAMIC praising the duo's "uplifting, otherworldly sounds" paired with "a relatable tapestry of human stories."
'Falling EP' will be available for digital ordering on 12 January 2018 at the following links: