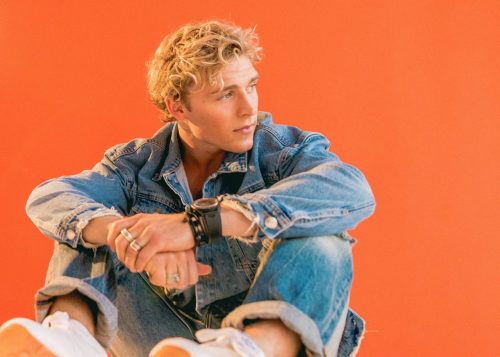 Christopher Nissen (born January 31, 1992) is the Danish pop sensation with a truly international outlook.
The 26-year-old singer, songwriter and musician by far is the biggest male pop star in his homeland. His roll call of achievements tells its own story: four Danish Music Awards (the nation's equivalent to a Grammy); a summer that saw him perform to over 600,000 people; a 50 day run at #1 on Spotify for his second album 'Told You So'; and 110 million plays on Spotify. That's 110 million streams primarily from a nation with a population of just 5.5 million.
In short, Christopher is officially A Big Deal. A Big Deal in the iconic "swamped by admirers wherever he goes" style. A Big Deal in the sense that fans scream and hyper-ventilate upon seeing their hero. A Big Deal given that his show at Copenhagen's Tivoli Gardens – the third biggest theme park in the whole of Europe – had to be halted due to overcrowding.
And yet in the wider arc of his career trajectory, Christopher's story has barely begun.
Raised in Kastrup in the outskirts of Copenhagen, Christopher picked up the guitar at the age of twelve. Influenced
by John Mayer, Jason Mraz and Jack Johnson, he won his school's songwriting contest at his first attempt and then won it again every year that followed.
"I thought when I was fifteen that I was ready to conquer the world," he states with a tinge of embarrassment at his teenage naivety. "That confidence probably comes from the love from my Mum and Dad, and hearing people saythat you're good at something from a young age really helps."
He soon signed his first recording contract after impressing with a set of his own originals and some John Mayer covers, but both his family and his label wanted him to finish his education. His record company bided their time until the moment was right to launch Christopher into the world.
The breakthrough came with the release of his debut single '
Against The Odds
' (co-written by Kay & Ndustry, Kasper Larsen, Ole Brodersen, Curtis Richa and Johan Wetterberg, and produced by Kay & Ndustry and GL Music's Lasse Lindorff) which was rooted in his love of acoustic-orientated pop. With the help of the accompanying video –
"teenagers fooling around, like a summer version of 'Last Christmas' by Wham"
– everything exploded as his Facebook profile shot from 3,000 likes to in excess of 100,000. His subsequent debut album '
Colours
' built on that initial surge of interest as it peaked at #4.
Second time around, however, Christopher craved a different sound.
"I didn't want to make another John Mayer
album, I wanted to make a Justin Timberlake album!"
And on '
Told You So
' that approach was everywhere, from the falsetto and funk of the title track to the pure pop vibes on '
Mama
'.
'
Told You So
' was an album that captured the public's imagination. At the time, his media profile was simply as the ex-boyfriend of Danish pop queen
Medina
, which meant that his lyrics – love, loss and other romantic travails – suddenly resonated with audiences due to their autobiographical nature. It was a process that changed everyone's
expectations.
"When people heard that the track 'Told You So' was from a guy from Kastrup called Christopher they just couldn't believe it,"
he laughs.
"I was driving in my car and I'd hear it on the radio. I'd put the TV on and see the video. It was everywhere!"
A feature on Texan artist
Brandon Beal
's crossover #1 '
Twerk It Like Miley
' only amplified the
attention that was thrust upon him.
Having shot to #1 with 'Told You So' and 'Crazy', and again hit the Top 10 with 'Mama', the album's final single'CPH Girls' proved to be Christopher's biggest smash to date as it again raced to the top of the charts. A year on, it's now approaching 8 million views at YouTube alone.
'
CPH Girls
' was written in Turkey when Christopher, Beal and his regular collaborators 
Frederik 
and 
Fridolin Nordsøe 
headed abroad to find fresh inspiration. The concept behind the track emerged almost as soon as they'd arrived when Christopher joked that Beal should work on an idea that would pay tribute to his Danish fans.
With his upcoming third album, Christopher is looking at replicating his domestic success on an international scale.
Taking his cues from artists such as Bruno Mars, Justin Timberlake and Michael Jackson, it's shaping up to be a
multinational mainstream experience, with the Nordsøe brothers and Beal returning alongside further collaborators including Madcon and Coffee Clarence Jr. (Rihanna, One Direction, Maroon 5). He's already made inroads in China with 60 million streams on the QQ Media Chart and the title of Best Western Artist of the Year.
The reaction for the lead single '
Tulips
' has been suitably huge with a #1 chart entry and over 7.5 million Spotify streams already. Capturing the feel-good spirit of the kind of uplifting anthems that crash into charts across the globe, '
Tulips
' came out in Denmark, Norway and China, "
I Won't Let You Down
" featuring 
Bekuh Boom
 becoming his second number 1 in Denmark and the track "
Limousine
" with the artist Madcon.
If the past is any indicator of the future, this new album will see Christopher taking another giant step forwards. "I'm hoping I'll be able to step into some other territories across Europe, and I've always dreamt of making a breakthrough in the States," he concludes. "Right now, I'm just trying to enjoy every second of being able to do what I like the most – playing music and travelling with my band."