Scholastic is treating Potterheads to the brand-new "20th Anniversary" covers of J.K. Rowling's Harry Potter series, illustrated by worldwide bestselling author and award-winning artist Brian Selznick. The release of the new edition marks the celebrated milestone of the 20th Anniversary of the U.S. publication of Harry Potter and the Sorcerer's Stone. The highly-anticipated new paperback editions have been released last June 26, 2018.
Breathing the epic story into life, the new edition is rendered with Selznick's signature black-and-white style with jewel-toned type. But when the covers are placed side by side in a chronological order, this is where the real magic happens. The covers will then form a dazzling single image that tells the overarching story that begins with Harry's arrival at Number Four, Privet Drive, through the epic conclusion of the Battle of Hogwarts.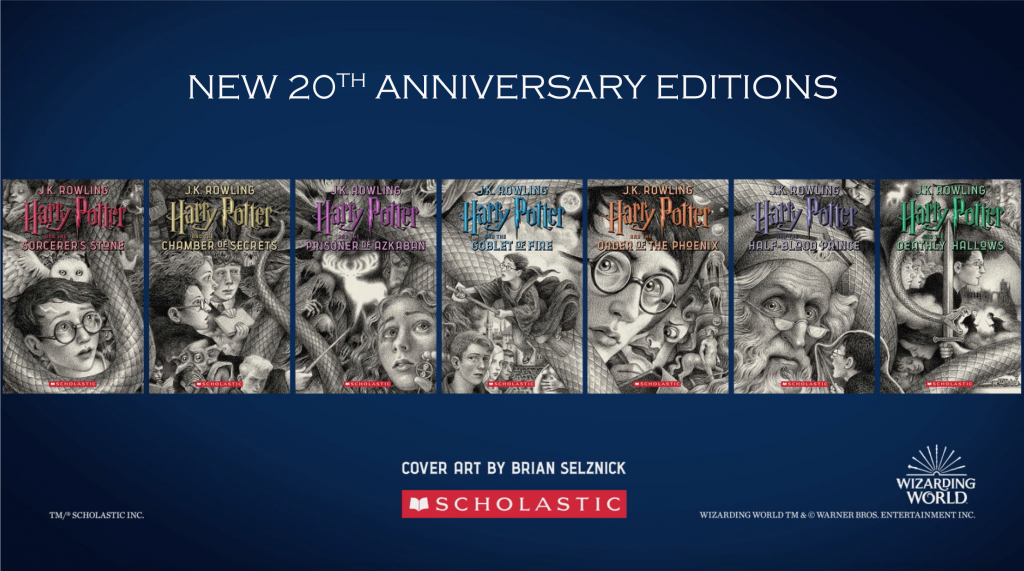 All seven covers depict thrilling moments and beloved characters from across the series, including Harry Potter, Hermione Granger, Ron Weasley, Albus Dumbledore, and many more. Sharp-eyed readers will spot intricate details throughout the artwork, such as Hermione's Time-Turner, Harry's Patronus, the maze from the Triwizard Tournament, and the Hogwarts Express steaming toward a new school year with the next generation on board.
Being a fan himself, Selznick said, "I'm a huge Harry Potter fan (a proud Hufflepuff!), and to be asked to illustrate the 20th Anniversary edition covers was an absolute honor. I knew this project came with so much responsibility to the stories, as well as to the readers. I revisited the books and was especially moved by the relationships between the characters in J.K. Rowling's magical world, so I wanted these covers to reflect that".
Also crafting his magic touch to design the collectible boxed set to be released in September, Selznick also shared, "One of the most challenging and rewarding aspects of the process was drawing seven independent covers that would stand on their own, while making sure that they also lined up to create one single satisfying image. It took dozens and dozens of sketches to get it right, and I am thrilled to share my great love for the books with these new illustrations."
Brian Selznick is the Caldecott Medal-winning creator of the #1 New York Times bestsellers The Invention of Hugo Cabret, adapted into Martin Scorsese's Oscar-winning movie Hugo, and Wonderstruck, adapted by celebrated filmmaker Todd Haynes, with a screenplay by Selznick; as well as The Marvels. His books have garnered countless accolades worldwide and have been translated into more than 35 languages.
In conjunction with the 20th Anniversary in "Celebrating 20 Years of Magic", Scholastic is also planning major events throughout the year including celebrations at bookstores, libraries, schools, and festivals all around the globe. For fans in Asia, exciting events await such as the Harry Potter Tea Party, Muggle Sketch Wall, Harry Potter Reading Theatre, Costume Contest, immersive bookstore displays, fun book giveaways and a rare chance to grab limited edition Harry Potter 20th Anniversary commemorative premiums.
"Scholastic Asia is thrilled to bring the new edition and these exciting events to Potterheads in the region, for them to be part of the historic 20th Anniversary celebrations. Regardless of who and where readers are, the collective love of reading has led to this monumental day, two decades long of a worldwide sensation. This just proves that the universal magic of books – and the captivating Harry Potter series – indeed goes beyond all kinds boundaries," enthused Selina Lee, Vice President of Scholastic Asia.
As the 20th Anniversary year-long celebrations sweeps the globe, Scholastic will also publish J.K. Rowling's original screenplay for Fantastic Beasts: The Crimes of Grindelwald in conjunction with the film's release this November. The much-beloved Harry Potter spin-off has captured many hearts since its debut, with its cinematic release of Fantastic Beasts and Where To Find Them being one of the biggest worldwide box office hit in 2016.
HARRY POTTER characters, names, and related indicia are trademarks of and © WBEI. Harry Potter Publishing Rights © J.K. Rowling. SCHOLASTIC ™/ ® Scholastic Inc. Art by Brian Selznick © 2018 by Scholastic Inc.