There's nothing like spending the holidays in the Philippines. Months and months of festive merriment filled with Christmas carols, family reunions, parties, and of course great food, which often stretches well after the holidays.
Delicious food is often the highlight of gatherings and the key to throwing a great feast is variety, so everyone can enjoy the holiday spread, whether you're a full-fledged meat lover, on a diet, a vegetarian, or making the move to eat healthier. That's why Kenny Rogers Roasters is offering something to satisfy all of your cravings: The All In Feast!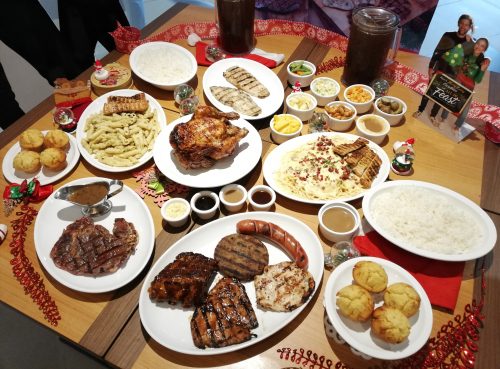 The All In Feast features all your Kenny Rogers Roasters favorites in one package! It includes one whole chicken of your choice: Classic Roasted, OMG, or Bacon Roast; plus a myriad of fresh-off-the-grill specials like the Premium Steak, Half Slab of Ribs, two Grilled Fish, two Grilled Chickens (Rosemary & Thyme and American Barbecue), Grilled Sausage, Burger Steak, a platter of Carbonara, 8 sides of your choice, 8 Corn Muffins, two rice bowls, and two pitchers of Iced Tea or Soda.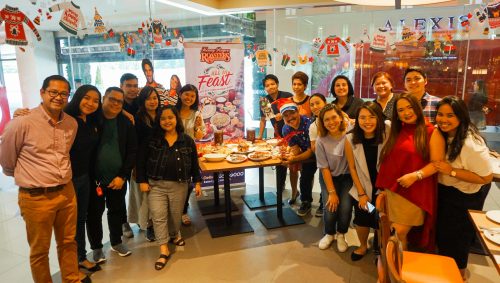 Kenny's also included a platter of Creamy Pesto to the All In Feast. It's penne pasta coated in a rich, creamy sauce of basil pesto, peanuts, parsley, and Parmesan cheese. It is exclusively available for a limited time only as a part of the All In Feast.
Another limited time offer is their signature 2018 Merry Kenny Muffins — the perfect way to end your meal or give as a gift. Merry Kenny Muffins are available in two delicious variants: Banana Caramel and Fruitcake. It's available in boxes of six for P115 or P18 per piece. You can also choose to upgrade your All-In Feast Corn Muffin to a Merry Kenny Muffin for an additional P5.00.
The All In Feast is available for P3,300.00 and it's enough for 8 to 10 people to enjoy. Talk about great value!
Make sure to gather friends and family for a great feast this holiday.