Some Kapamilya stars are not just for drama scenes, romantic scenes, and action scenes. They also got game in basketball, and they recently got to showcase their skills and passion for the sport at the Star Magic All-Star Game in Araneta Coliseum that will be aired on Sunday (August 26) on ABS-CBN S+A and S+A HD.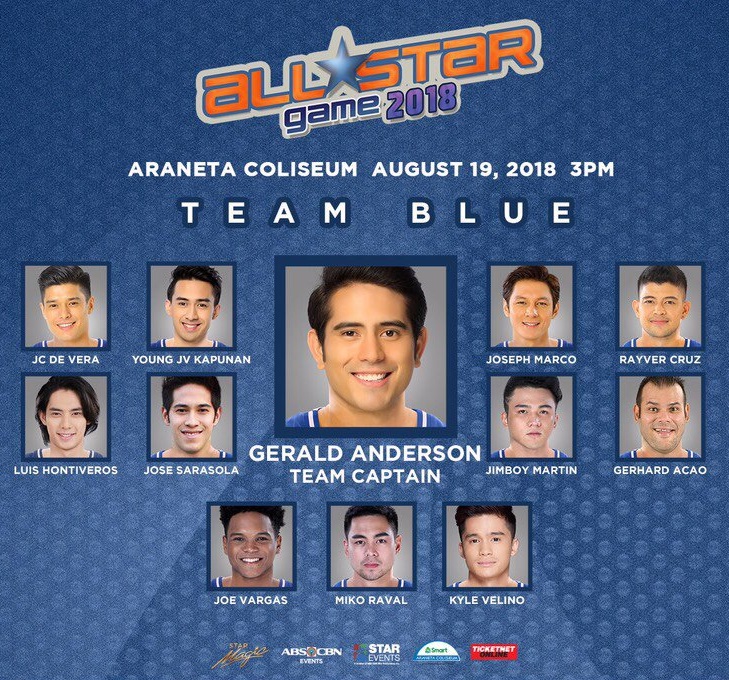 Team Blue, captained by Kapamilya hunk and Maharlika Pilipinas Basketball League mainstay Gerald Anderson, clobbered Team Red led by "The Hows of Us" star Daniel Padilla, 113-75 in front of a humongous crowd of cheering fans. While it was a dominant win by Anderson's squad, the spectators were able to see flashes of brilliance from both sides.
Let's take a look at five Kapamilya actors who made quite an impression on the floor.
1.) Gerald Anderson, Team Blue
The Marikina Shoemaster guard in Manny Pacquiao's MPBL was named the game's MVP after putting up 24 points and hauling down eight rebounds to lead his Blue team to a rout over their rivals. Anderson credited his time in the MPBL for the improvement in his game. The hunky actor from Gen. Santos City was supposed to play college ball before the call of showbiz came but this did not stop him from continuing his passion on the hardcourt, eventually leading him to a roster spot with the Shoemasters.
2.) Axel Torres, Team Red
Torres, the younger brother of former DLSU Green Archer Thomas, was his usual deadly self in bannering the fight for Team Red, despite the losing cause. He fired 19 points to lead Padilla's Team Red. It was enough to land him a spot in the Mythical Five. This year has been great for former basketball varsity player, sports-wise. Like Anderson, he also plays in the MPBL alongside another actor Xian Lim in Mandaluyong El Tigre. He will also represent the Philippines in China after his team, Team Core, finished second in the 3×3 tournament Vivo HoopBattle Championship Philippines.
3.) JV Kapunan, Team Blue
While Team Blue boasted of a semi-professional basketball player in Anderson, it also got unexpected firepower from hip-hop star "Young JV" Kapunan. Kapunan poured in 22 points and earned a Mythical Five selection for his performance, outplaying taller and stronger celebrities in the court.
4.) Rayver Cruz, Team Blue
Team Blue boasted quite a collection of Kapamilya ballers and Rayver Cruz makes him the third member of the squad to earn a Mythical Five selection at the end of the day. The tall, muscular, and agile actor-dancer was steady in the game scoring 12 points and helping down with the rebounds, collecting nine.
5.) Daniel Padilla, Team Red
Philippine showbiz's "Teen King" will not be outshined on the basketball court, and as the captain of Team Red, he went and nabbed himself a spot in the Mythical Five as he poured in 11 points. Every made basket and touch of the ball by Padilla was met with wild cheers from the predominantly female crowd, but unfortunately, his performance was not enough to carry his squad to victory.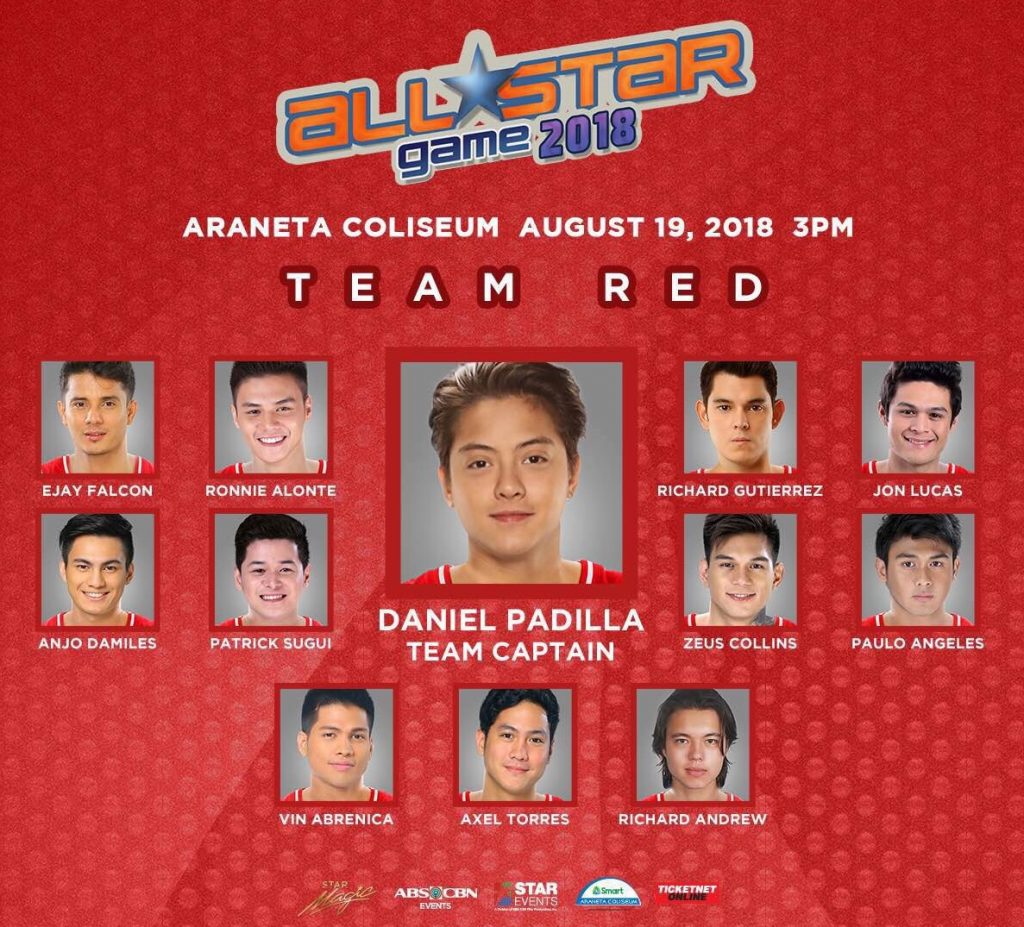 It is not everyday that we get to see our screen idols ball it out and live their basketball dreams. Watch Team Blue and Team Red, featuring Kapamilya stars like Richard Gutierrez, JC De Vera, Vin Abrenica, Ronnie Alonte, Zeus Collins, and Ejay Falcon prove their worth in the hardcourt on ABS-CBN S+A, which will air the Star Magic All-Star Game on Sunday (August 26) at 8 pm.
For more information and stories, visit ABS-CBN's sports hub sports.abs-cbn.com, and follow their official social media accounts on Facebook and Twitter (@ABSCBNSports). For updates, follow @ABSCBNPR on Facebook, Instagram, and Twitter or visit www.abscbnpr.com.