The country's top sales and marketing professionals in the hotel and tourism industry are honored at the most prestigious awards ceremony of the year.
"…To be the biggest and most prestigious awards event of the Philippines hotel sales and marketing industry."
That was what Christine Ann Ibarreta, president of the Hotel Sales and Marketing Association (HSMA) Philippines, envisioned for the Virtus Awards when she first came up with it four years ago—a vision, which, she admits, is still something the group is working on achieving.
"I wanted 10 categories right away! In fact, I was even looking to [give out awards to] 10 outstanding hoteliers," says Ibarreta. "But Virtus wasn't even a year old, so it was difficult to do that."
That's not to say, though, that the Virtus Awards is deemed any less prestigious by its intended recipients—the country's best sales and marketing professionals in the hotel and tourism industry. In fact, it has become the event of the year for such professionals, as it is the only one which recognizes specifically their hard work and achievements. Slowly but surely, the Virtus Awards has positioned itself to become one of the most coveted honors in the hotel and tourism industry.
" [Virtus Awards] is different because before, there was really none that focused on sales and marketing in the hotel industry, and we all know sales is the bread and butter of any property," says Cielo Ortega-Reboredo, director of sales – events and marketing of Okada Manila, herself a Virtus Awardee in 2015.
Ibarreta says she was inspired to establish Virtus after hearing of HSMA International's Adrian Awards in the United States. From her big dream of 10 categories, she and other HSMA Philippines officers trimmed down the list to four: Outstanding Sales and Marketing Associate; Outstanding Sales and Marketing Manager; Outstanding Sales and Marketing Leader (the award received by Reboredo for her work then with Midas Hotel and Casino); and Outstanding Marketing Campaign.
"We were thinking of hosting the usual activities, such as trade shows, but we wanted to veer away from that," says Margarita Munsayac, HSMA Philippines chair. "We said, let's do something that will recognize their excellence."
Adds Ibarreta: "Sales and marketing people are the ones looking for sources of revenue. We bring that to the table. We are the ones who go out of the office wearing three-inch heels and come back with only two inches left!"
Such recognition, adds Munsayac, not only elevates the hotel sales and marketing profession, but also motivates management to take care of their staff under this division, which in turn inspires sales and marketing professionals to become more passionate about their job.
"By igniting their passion, we hope to excite the market, deliver rigorous business, make our hearts beat a little faster, and, yes, shake our world," adds Rose Libongco, former HSMA president and current Virtus chairperson. "That we are able to launch and consistently deliver year on year is a feat we are immensely proud of and hope to accomplish till Virtus becomes a byword and the winners become synonymous with the mark of excellence."
Since Virtus began in 2015, Ibarreta says the number of nominations they receive have doubled. This year's nominees for individual categories are regular employees who have served in a HSMA member-property for at least one year, including the covered period of April 1, 2017 to March 30, 2018, and have no past and/or pending administrative or criminal case.
Nominators, on the other hand, come from an HSMA member-property to ensure familiarity with the performance being cited.
Ibarreta notes that nominees this year have become significantly more competitive.
Criteria depends on the category under which a candidate is nominated. For the three individual awards, judges look at these key factors: one's actual accomplishments/achievements; customer orientation and business-specific knowledge; teamwork and interpersonal relationships; and commitment to continuing education.
As for the Outstanding Marketing Campaign award, judges choose the best one based on: marketing objectives and content; creativity and innovation; results/return on investment; and presentation.
"[The nominees] are understanding more what the competition is all about. Before they were just checking us out, like if we were just some small-time contest; but on the second year we became better, and on the third, we became better again. Now, on the fourth [year], they know exactly what the judges are looking for," she says.
Adds Libongco: "Over the years, we are pleased to see a diverse group of winners spanning various positions in sales and marketing which bolster our pitch that 'Everyone is a Salesman.' The ginormous task of delivering sales objectives is a well-oiled teamwork that requires everyone's effort. Each Virtus winner is a champion and the confirmatory award raises expectations of better performance from the recipient. Bringing home the Virtus trophy is not the goal, it is the opportunity to do better and prove oneself to be equal to the consistency and commitment to the Virtus ideals."
Announcement of winners for the 2018 Virtus Awards will be held at the gala dinner on October 8 at the Marriott Grand Ballroom, Marriott Manila, #2 Resorts Drive, Pasay City. Guest of honour and keynote speaker is Department of Tourism Secretary Bernadette Romulo-Puyat.
The celebration doubles as a networking event for sales and marketing professionals in the hotel and tourism industry. Tickets to the gala are at P2,500.00 per person. Please call HSMA at tel. +632-5017.1100 / +63 917 851.1626; or email hsmasecretariat@gmail.com or follow them on Facebook @HSMA (Hotel Sales and Marketing Association International).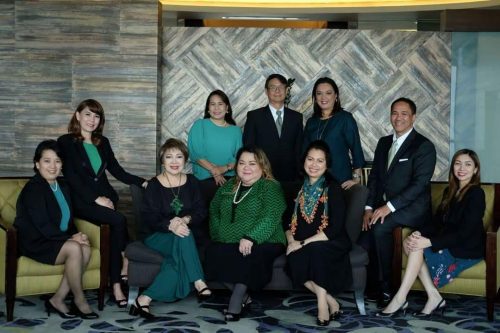 About HSMA:
The Hotel Sales and Marketing Association (HSMA) is the premier organization of sales and marketing leaders in the Philippine travel and tourism industry, representing the hotels and resorts segment. It is in the forefront of providing hotel sales and marketing professionals with tools, insights, and expertise to remain current in the ever-evolving hotels and resorts industry. Organized in 1979 after a series of informal gatherings of the directors of sales of top Metro Manila hotels, HSMA counts over 120 hotels and resorts in the country as member-partners. Its first president was Melvin Cruz of the Hyatt Hotel, and Rose Hilario-Libongco of Hotel Intercontinental Manila, Aurora Patricio-Paredes of Manila Hilton, Michael Cuisia of The Manila Hotel, and Peter Litgeib of The Manila Mandarin as first set of charter officers.
Hotel luminaries who have held the reins of the HSMA presidency include Maggie Garcia, Leny Fabul, Ofri Canlas, the late Chiqui Recio-Ang, Lyn Tamparong, Gami Holazo, Roberto Laygo, and Marita Marcos. Rose Libongco takes the title of longest-serving president, as she was elected for multiple terms from 1982 till 2010.