Powered by AUB, fast, secure payments can now be enjoyed by Chinese guests for all the excitement they can find in this luxury destination.
At Okada Manila, paying for a wealth of luxury dining, leisure and entertainment is now even more convenient, flexible and secure.
This landmark partnership with Asia United Bank (AUB) empowers Okada Manila's guests from mainland China to use Alipay and WeChat Pay for their entertainment, lodging, dining, and more.
These instant payment platforms—increasingly popular across Asia and fast becoming the preferred mode of payment for Chinese tourists—can now be accessed by Chinese guests through AUB. All it takes is a couple of seconds on their smartphone to make payments, so Chinese guests can enjoy spending more quality time at the largest entertainment resort in the heart of Manila.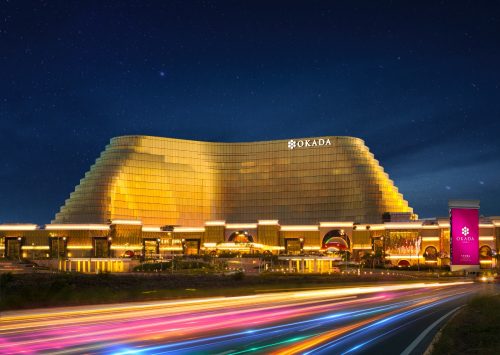 "Our partnership with AUB couldn't have come at a better time," said Mr. Ivaylo Ivanov, Vice President of Hospitality Operations and Hotel Administration at Okada Manila. "Apart from developing and operating one of the metro's most exciting destination resorts, we are strongly committed to consistently deliver memorable experiences to our patrons in very secure and technologically advanced ways."
Through AUB, Okada Manila's Chinese guests can enjoy all the benefits that Alipay and WeChat Pay offer.
Alipay is the largest mobile payment platform in the world with over 870 million active users together with its strategic partners overseas, support for 27 currencies, and over US$1.2 trillion transactions in 2016. Apart from being accepted at Okada Manila in the Philippines, this platform is supported in over 200 countries and works with over 250 overseas banks and financial organizations to enable convenient cross-border payment both offline and online globally.
WeChat Pay is borne from one of the world's biggest social media apps, WeChat. Embedded in the wildly popular app, this payment functionality empowers millions of customers in China and the rest of Asia to make cashless payment transactions both online and offline. WeChat Pay customers typically use it to pay for rides, food deliveries, online shopping, movie tickets, and utility bills—and even send money to other app users. Like Alipay, this platform empowers users for cross-border transactions in the Philippines, Japan, Thailand, Hong Kong, New Zealand, Europe, the United Kingdom, the United States, South Korea, Singapore, Canada, and South Africa.
"Embracing digital payment options such as Alipay and WeChat Pay allows us to make our facilities, services and amenities even more accessible to a wider range of guests, so all of them can spend even more time of having fun at the resort," added Ivanov.