Orange Magazine TV, together with others moms and shoppers, were treated to a sophisticated weekend as Shopwise Alabang hosted a wine festival of sorts, right inside their supermarket in Festival Mall, as a way to celebrate the recent Mother's Day!
It was an afternoon of food and wine as a cooking lesson, a Wine 101 talk, and a wine show featuring brands exclusive to Shopwise and Rustan's were held.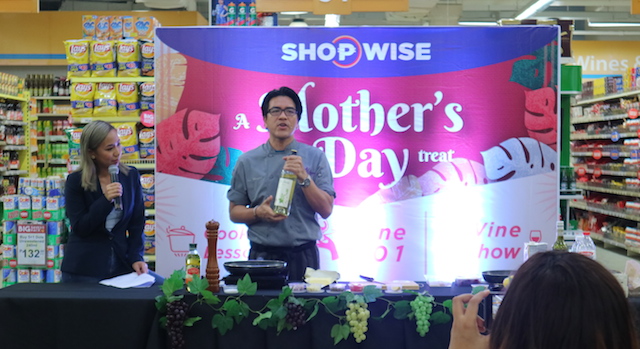 Hosted by premiere radio DJ Jamie Fornier, the program first featured Chef Jee Mingoa who cooked some of his specialty dishes on the spot! And of course, our moms and shoppers inside the Shopwise Supermarket was able to taste-test the food right after.
Chef Jee is the seasoned Chef of Alchemy Bar and Bistro and specializes in French, Western, and Mediterranean cuisine.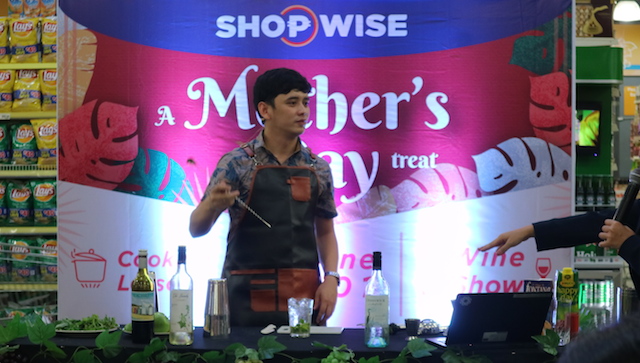 Up next was a cocktail mixing demonstration by Joseph Apostol, He is the president of Philippines Wine Flaring.
He also showcased an awesome round of wine flaring for the audience in Shopwise Alabang.
Finally, the highlight of Shopwise' Mother's Day treat was the Wine 101 course by Australian wine expert Mattia Mauri who hails from Italy.
Mr. Mauri is a wine expert who started learning about wine right after school in Europe before moving to Australia recently this year to further develop his skills and knowledge. His specialty are Italian and Australian wines in particular.
He talked about different kinds of wine and how to properly drink from a wine glass and how to appreciate a good wine.
He represents a certain number of Australian wines being sold at Shopwise among which the top selling are Beach Hut, Chain of Fire and Lakefield brands.
Other types and brands of wine in Shopwise include the following:
AW Trentham The Family Moscato
Chain Of Fire merlot
Beach Hut Semillon Sauvignon Blanc
Lakefield Shiraz
Lakefied Moscato
These Shopwise wines are also on discount this season! Do visit any of the Shopwise branches in the Philippines and take advantage of those discounts and great deals / promos on their wines! You may also visit their website or their Facebook.
Thank you to Shopwise Alabang for this special Mother's Day treat and the educational features!