Jack-Jack Parr, the baby of the family in Disney-Pixar's new action-adventure "Incredibles 2", likes to sit back with a bottle and a good story. Well-versed in gibberish with a penchant for throwing food, Jack-Jack seems like a typical toddler, but he just might turn out to be the most powerful Parr in the household.
"The family has no idea he has powers," says producer John Walker. "At the end of the first `Incredibles' the audience gets the first glimpse of what Jack-Jack can do—like bursting into flames and turning into a demon baby—but the Parrs didn't see that all happening."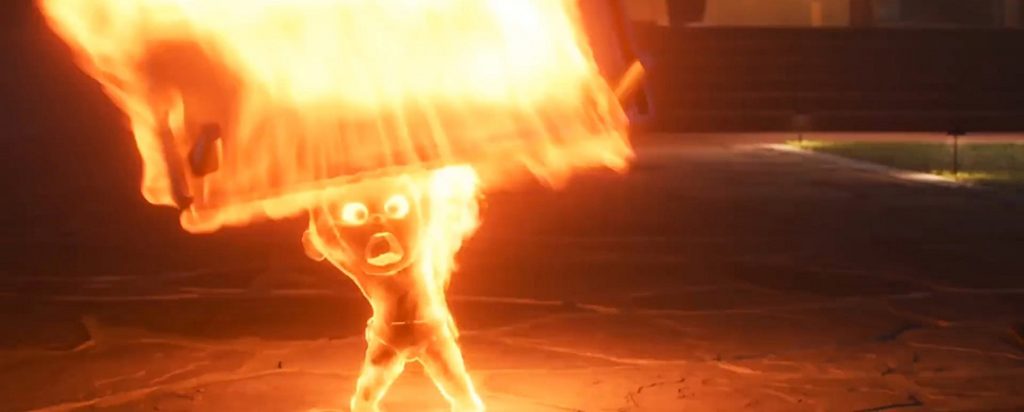 While the Parrs haven't yet discovered Jack-Jack's super potential, the audience is privy to several of the toddler's powers—some some shared in the 2005 short "Jack-Jack Attack" in which the tot inadvertently terrorizes his babysitter, and others were recently unveiled in a trailer for "Incredibles 2." Even more will be discovered in theaters when the film opens this June.
Among Jack-Jack's powers, so far: bursting into flames/pyrokinesis, invisibility, laser vision, levitation and the ability to hang out on the ceiling and walls, multiplication – splitting into multiple Jack-Jacks, phasing – moving through closed doors, projecting bolts of electricity, telekinesis, teleportation, transforming into heavy metal or goo and turning into a demon baby.
According to effects supervisor Bill Watral, many of Jack-Jack's powers are effects driven. But achieving the actual effects wasn't the toughest task the team had to address. "One of our biggest challenges with Jack-Jack was maintaining the look of the baby—whether he's turning to goo or on fire," says Watral. "Nobody wants to see a burning baby, for instance, so we spent a lot of time making sure he was always appealing."
Technological advances over the years allowed Watral and his team to enhance the character's look within effects like flames. "Reading Jack-Jack's face was really important," he says. "We created a shading treatment so that his facial expressions were clear: 'I'm on fire but that's OK! This is fun!' We never want anyone to forget that this is a baby with powers. The effect should never outshine the humor, which is a lot harder to do than a big explosion."
"Incredibles 2" opens in Philippine cinemas nationwide on Thursday, June 14, 2018. Join the conversation online by using the hashtags #Incredibles2 and #IAmIncrediblePH