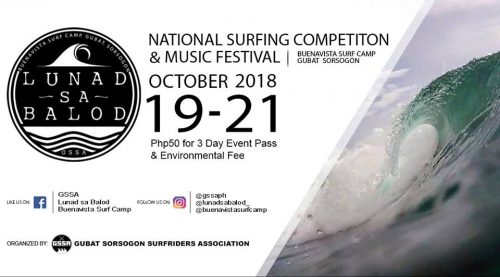 The Gubat Sorsogon Surfriders Association, Inc. (GSSA) is once again bringing the Lunad sa Balod: A
National Surfing Competition & Music Festival, now on it's 4th consecutive year, this coming October 19 to 21, 2018 at Buenavista Surf Camp, Bgy. Buenavista, Gubat, Sorsogon.
Lunad sa Balod is organized in partnership with the the Local Government Unit of Gubat, Sorsogon, the Provincial Government of Sorsogon and as part of the province's annual Kasanggayahan Festival celebration and with the Bicol University. It means "Ride the Wave" in the local dialect, and it is for surfers, beach-goers and music enthusiasts who want to experience the thrills of surf, sun, sea, sand and sound.
With Gubat, Sorsogon as its location which is at the south eastern part of mainland Luzon, the event is easily accessible to majority of the surfers in the Philippines. Registration for the surf competition for men's shortboard open and longboard open categories is P500.00 per participant per category, P300.00 per category for women's shortboard and longboard open and P300.00 for grommets shortboard category. Winners will receive a total of P250,000 in cash prizes and up to P100,000.00 worth of goodies and products.
To ensure the highest level of surf-athleticism, this year's line up of surf competition judges include Head Judge Marco Villaruel from Baler, Abdel Elecho from Samar, Bjorn Pabon from Manila, Mac Ramos from Zambales, Kulot Liwarin from Zambales, and Marjim Guererro from Baler.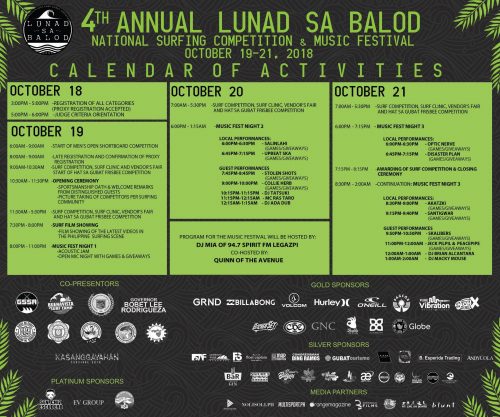 For a 3 day event pass of only P50.00, spectators and participants will enjoy the national surf competition, Hat-Sa-Gubat Frisbee competition and vendors fare during the day time and three nights of the music festival with rock, reggae, ska and rave music. Night 1 on October 19 will be an acoustic jam and open mic session for the surfers and audience. For Night 2 on October 20, musical performances will be from Stolen Shots, Collie Herb, DJ Tatsuki, MC Ras Taro, DJ Ada Dub and other local bands. And for Night 3 on October 21, performances will be by Skalibers, Jeck Pilpil & Peacepipe, DJ Brian Alcantary, MC Macky Mouse and other local bands.
Lunad sa Balod 2018 kicks off on the early morning of Friday, October 19, 2018 with the start of the surf competition at 6am and the opening ceremonies at 10:30am. And culmination will be on the night of October 21, 2018 with the awarding ceremony for winners and the finale for the music festival.
Orange Magazine and Beyond Reality Films supports Lunad sa Balod 2018.
For more information, please visit their Official Facebook page: @lunadsabalod