Have you ever found yourself watching countless YouTube videos about how to apply makeup for hours or days? You might be looking for ways on how to achieve your kilay goals or just a simple eyeshadow application but you are still clueless on how to apply it in real life. You are not alone!
Makeup is now part of a woman's every day life – from school, work and special occasions. You need to look great for your next business meeting or for your BFFs wedding day! Sometimes, hiring a professional makeup artist is not an option especially if you are working with a budget. That's the reason why you need to know the basics of applying makeup on yourself so you don't need to hire someone to do it for you.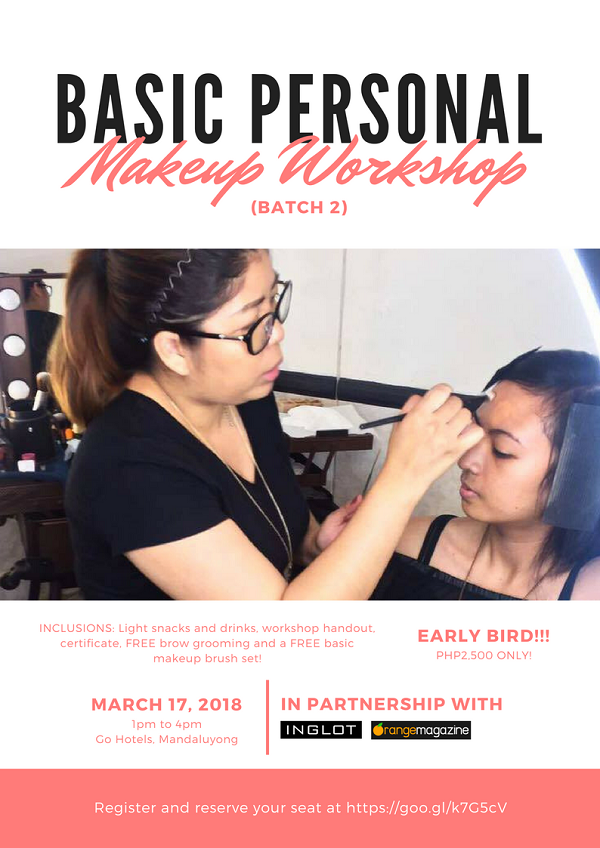 Sai Montes Makeup Artistry is having another class on "Basic Personal Makeup," where you can learn the foundation of that perfect look for any occasion without hiring a professional artist! The class will cover topics from proper skin care and skin preparation prior to makeup application. You will also learn what brushes to use for certain products, how to fill in and shape your eyebrows, finding the right foundation for you, proper highlighting and contouring and a lot more! The workshop will also teach you how to apply daytime and night time makeup, which is perfect so you know how to transition your look from day to night!

This Basic Personal Makeup Workshop is happening on March 17, 2018 from 1pm to 4pm at Go Hotels, Mandaluyong. Fee to participate is Php3,000 only but if you reserve your seat until February 20, 2018, you will only pay Php2,500. You will also get a workshop handout, where you can take notes of what's being discussed during the class, a certificate, light snacks and drinks and a FREE basic makeup brush set! Participants will also get a FREE brow grooming services before the class starts.
Register and reserve your seat through Sai Montes Makeup Artistry's website (https://goo.gl/k7G5cV).