Miss Esthe Facial Salon and Skin Care from Tokyo, Japan recently opened its first clinic in the Philippines.
What started out 30 years ago with seven staff members now has about 50 esthetic salons in Japan under direct management by the company and 100 franchised branches nationwide. There are also Miss Esthe subsidiaries in South Korea, Shanghai, Singapore, Malaysia, and France, making it one of the leading companies in the esthetic industry.
In Manila, Miss Esthe is located at the 2nd Floor of Uptown Mall in Fort Bonifacio and like its Japanese counterpart, it offers scientifically advanced, non-invasive, customized, age-defying and radiance-enhancing products and services from a company that has been studying women's skin seriously for three decades.
Over the years, Miss Esthe developed raw materials and products, improved their techniques, and worked towards assurance and safety for all clients and brought all these to the Philippines. The products and treatments are perfect for different kinds of skin types and lifestyle. There are those that are affordable even for young working professionals who need a quick perk-me-up with their 30-minute stress-relieving Japanese Facial Massage. There are also packages that involve more complex treatments using highly advanced Japanese skin care machines for those who love a little more luxury. All treatments bring outstanding results.
"We have a promising location in one of Metro Manila's progressive cities, and Miss Esthe is looking forward to providing the best of Japanese beauty techniques to Filipinos who are discerning in their choices for self-care," said Chinky Gabas, Director in Miss Esthe Facial Salon and Skin Care. Its customized skin care solutions help women (and men) achieve beautiful skin regardless of age, skin type and complexion.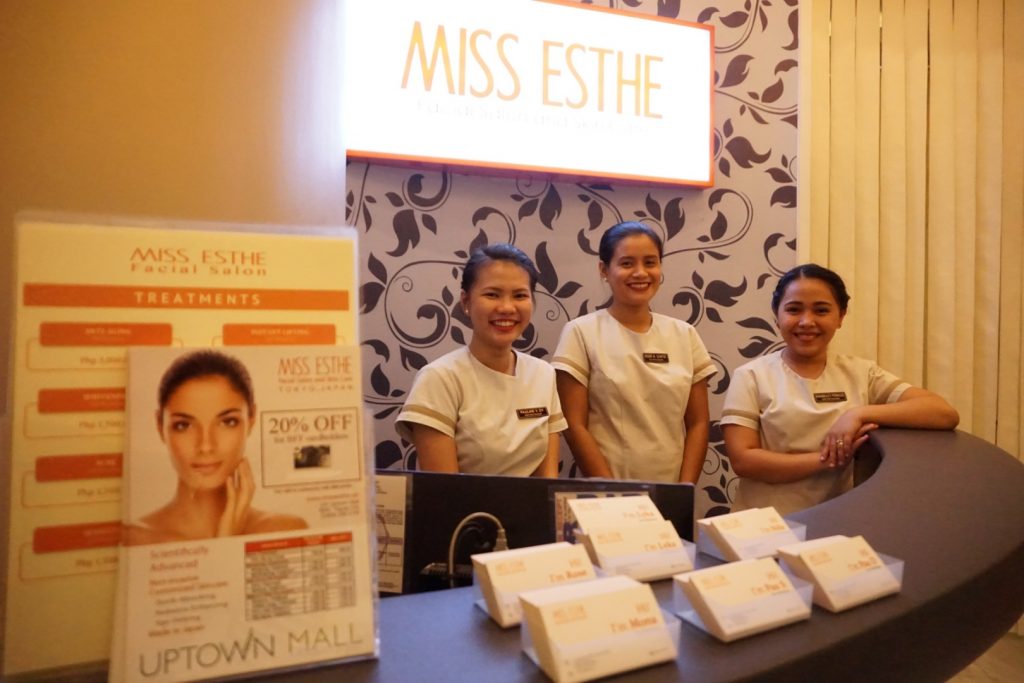 The character and beauty behind the name
If "Miss" signifies youth and "Esthe" is a short term for Esthetics, Miss Esthe, then, is someone who is simple but astute in her choices, especially when it comes to her well-being.
She is someone who loves to wear light make-up, is highly fashionable, a go-getter who actively pursues her career while living a successful, balanced life. This is the goal of Miss Esthe Facial Salon and Skin Care: to help its clients become beautiful and youthful persons, inside and out. And with its first salon finally in Manila, it aims to marry Japanese expertise with the warmth of Filipino "estheticians".
Estheticians understand your skin Radiant, firm skin
Miss Esthe's estheticians are trained by experienced master trainers in Japan. They are competent and follow strict Japanese operational guidelines in order to provide top-notch service and treatment to clients. They are also trained to operate the state-of-the-art Neo Energy EX facial machine, which ensures a highly effective, safe, and non-invasive way to provide facial care.
"In Miss Esthe, estheticians are not just therapists. They have a good understanding of their clients' needs and situations and can provide the right advice, treatment and products for home care," Gabas added.
They strive to build a good relationship with clients, based on trust and professionalism, enough to make the clients say, "I entrust my skin to you".
Radiant, firm skin
The one-of-a-kind Miss Esthe Skin Navigation System, a new method in the facial salon industry, has an original skin analysis system that are used by estheticians by asking clients some questions before they look into skin "age". This age is determined from various perspectives such as spot age (age of the skin based on the appearance of age spots), wrinkle age (age of skin based on the appearance of wrinkles), and skin texture age (age of the skin based on its texture). From there, the esthetician can suggest the treatments and cosmetics needed to address the customer's present skin conditions.
"A lot of people want to have fairer skin, so we have whitening treatments to achieve that shine and radiance effect. And because Filipino skin is normally acne-prone due to the air quality, lifestyle and diet, our Crystal Clear Facial blackheads and whiteheads removal which uses the D-Sonic probe that emits ultrasound micro-vibrations, is the ideal treatment," explained Chiharu Nagano, Japanese Master Trainer. "Even our male clients love this facial because they always come out of the salon with a clear face with tightened, uncongested pores."
"Filipinos love to take selfies and look beautiful. Therefore, having a V-shaped, lifted and firm skin is important for those selfies to look amazing. Our signature Instant Lift treatment achieves that," Gabas added.
Facial salon takes on a new form Beyond the facial massage, Miss Esthe boasts of a wide range of facial and skin care treatments, and all of them are non-invasive and 100% safe.
"For instance, our Wrinkle Care Serum and Gel are formulated with four kinds of anti-inflammatory and anti-aging peptides. Most importantly, all our products are fragrance-free, colouring-free, paraben free and surfactant free, making them safe for long-term use," Nagano said.
Other skin care products include Cleansing and Foam, a 2-in-1 make-up remover & facial cleanser that is good for all skin types; Essence Lotion, a 2-in-1 toner and serum which comes in variants to address different skin needs and Perfect Oil Serum, a rich moisturizer which corrects texture and prevent formation of wrinkles.
"Miss Esthe is not just a facial salon. It is a haven where clients exude a relaxed, more youthful and radiant skin even after the first session," Gabas concluded.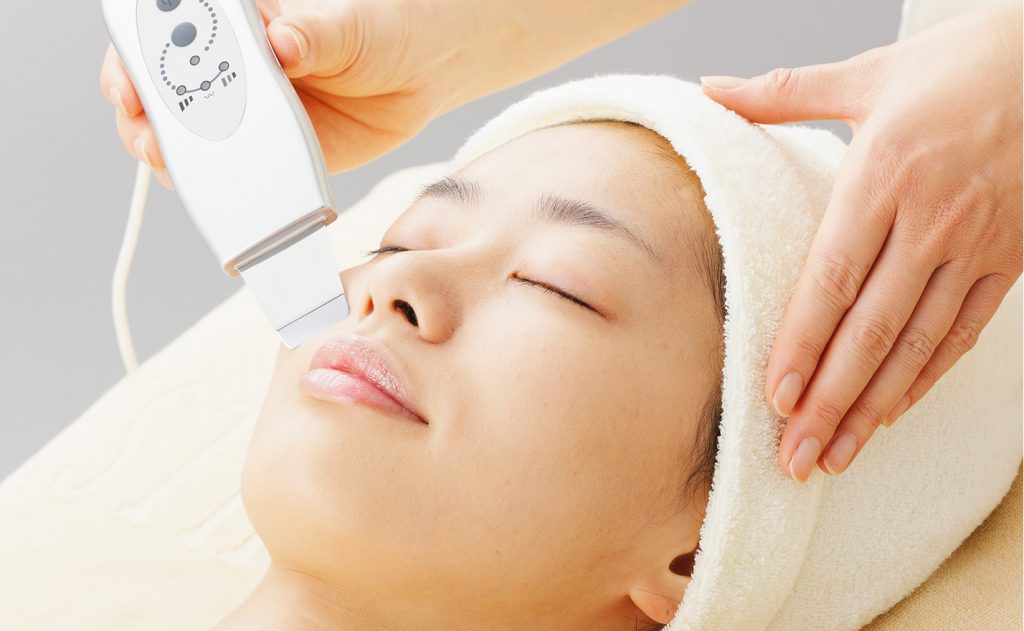 Visit Miss Esthe Facial Salon and Skin Care at the 2 nd Floor of Uptown Mall, Fort Bonifacio and its estheticians will be more than glad to help you book an appointment for a demo treatment. You may also call +63 935 336 4720 to make a reservation, or visit their website at www.missesthe.ph to have a better understanding of all their products and services, before making an online booking.