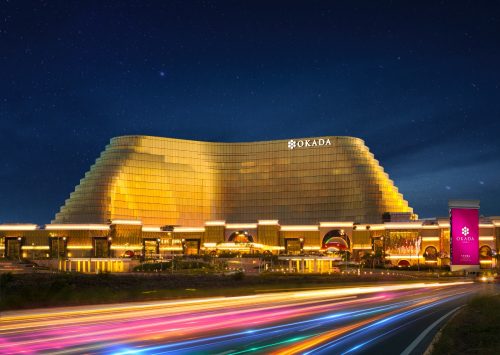 Okada Manila is a 44-hectare entertainment destination resort, which boasts of having one the largest and most exciting casino floors with more than 500 table games and over 3,000 slot machines. The property has 993 exceptional accommodations, ranging from 55-square-meter deluxe rooms to 1,400-square-meter villas.
Okada Manila is also home to Cove Manila, the first and biggest indoor beach club and nightclub in the region, which offers not only a unique ambiance but also a thrilling line-up of chart-topping performers, special promotions, and highly anticipated events.
Not much for the glamorous casino and party scenes? Guests can enjoy the spectacular multicolor dancing water shows at The Fountain, the largest of its kind in the entire world. Dining is always a pleasure at Okada Manila, now with 12 restaurants offering a mouthwatering range of cuisines from traditional Pilipino to Shanghainese, from Japanese to Italian and more, to meet every craving. Meals in these delightful establishments are prepared by highly skilled and experienced chefs—with some even boasting of the coveted Michelin stars.
The Retreat Spa, Okada Manila's luxurious and holistic wellness facility combines the main spa, Southeast Asia's first Wave Dream Meditation Chamber, 1920s style barber shop with whiskey bar, a beauty salon, a tonic bar and lounge, a wellness retail gallery, spa garden swimming pool and more.
The kids and the young-at-heart can enjoy PLAY, our indoor facility that offers endless fun and excitement in its eight specially designed "neighborhoods". It is hard to run out of things to do at Okada Manila!
"Our partnership with Asia United Bank (AUB) couldn't have come at a better time," said Mr. Ivaylo Ivanov, Vice President of Hospitality Operations and Hotel Administration at Okada Manila. "Apart from developing and operating one of the metro's most exciting destination resorts, we are strongly committed to consistently deliver memorable experiences to our patrons in very secure and technologically advanced ways."
Through AUB, Okada Manila's Chinese guests can enjoy all the benefits that Alipay and WeChat Pay offer.
"AUB ensures that our customers can focus on having more fun and creating memorable experiences at Okada Manila," concluded Ivanov.
For more information on Okada Manila, visit www.okadamanila.com.