Nothing spells a happy new year for TV aficionados better than getting access to dozens of channels across genres, and that is exactly what SKY subscribers are getting until January 30 via #FREESKYCHANNELS.
Go channel surfing and catch over 90 channels including five new ones, namely Fight Sports HD, EdgeSport, Liga, Euronews, and TLC HD.
There's something for every member of the family, from movies, talk shows and series, cartoons, documentaries, and reality TV, to lifestyle, cooking shows, and sports programs.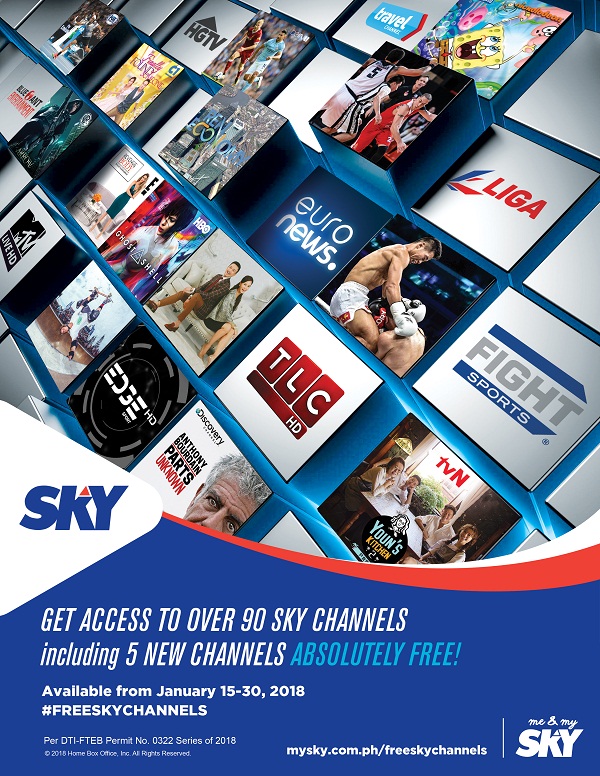 Fans of Scarlett Johansson can look forward to watching her suit up in the action adventure movie "Ghost in the Shell." Based on a popular anime series, the story is set in a future world where people are enhanced with technology to counter cyber-terrorism. One soldier, Major Mira Killian, discovers a plot to uncover a secret experiment on artificial bodies, which involves her past. Watch it on January 27, 9 PM on HBO.
Meanwhile, kids can enjoy new episodes of "Spongebob Squarepants" on Nickelodeon from January 22 to 26 at 6:30 PM.
K-Pop fans will get a kick from watching Sandara Park and her brother, fellow K-popstar, Thunder, tour the Philippines and try different delicacies and experiences all while competing against Grace Lee and Sam YG in tvN's "One Night Food Trip – International." Watch them every Wednesday at 8 PM.
These are just some of the wonderful, exciting shows that air on the channels on SKY.
Visit www.mysky.com.ph/freeskychannels for more information on SKY services and promos, or call 418-0000 or your local SKY office.