At its annual thanksgiving dinner held at Sofitel Philippine Plaza's Harbor Garden Tent recently, one of the country's leading learning solutions provider surprised attendees composed of partners in education with an announcement: They will all become instruments of wholeness and transform lives of vulnerable children through a new initiative with World Vision Philippines.
World Vision Philippines, a global humanitarian organization helping improve the lives of thousands of families and communities around the country by providing support through education, child protection, health, economic development, as well as disaster preparedness programs. With the aim of building a better world for children together, World Vision Philippines partnered with REX Book Store to help spread awareness about the conditions of children living in poverty, without access to education and uplifting learning environments.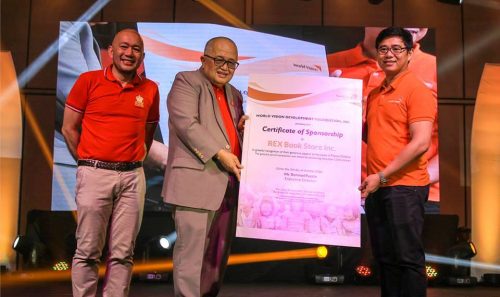 The two organizations are working together in their shared commitment, with REX Book Store pledging support for 1,500 students for three months, connecting the thread of hope by enticing guests at the banquet to continue supporting the children for a meaningful sponsorship experience.
World Vision Executive Director Mr. Eduardo Cabral Jimenez, shared that "These children are from the poorest of the poor, impoverished communities, and REX's support is a meaningful contribution to their lives." The program was graced by World Vision's celebrity ambassador Joyce Pring, as well as former World Vision child and now Coast Guard spokesperson Capt. Armand Balilo, who shared their own experiences about the organization's advocacy and how it has created a huge impact in their lives and the lives of over a million children in the country.
Held in conjunction with the Catholic Educator's Association of the Philippines' (CEAP) Annual National Convention, Buhain noted that the idea behind the partnership with World Vision was also done in light of CEAP's theme "from brokenness to blessedness."
REX COO Timothy Buhain shared that although the company has been blessed with growth and success for the past 68 years, the usual measurements of success had to be rethinked, saying: "It's about time, we should start asking, did the children become better because of what we do?" adding that "while we cannot not join the industry's 'game', it is time for us to do something different, something more sincere: something like giving is receiving".
For REX, the vision of a better rests in helping children today. Buhain shares how "these children may be broken from the harshness of the world out there," but REX hopes that "through small acts of kindness, they may feel blessed, and the guests, in turn, will feel deep inside their hearts that they've also received something."
A believer in the limitless potential of young learners to make the world a better place, REX taps the work of World Vision to further its mission of creating and providing 21st century learning solutions which are designed to create learning environments and foster holistic education "Para Sa Bata, Para Sa Bayan."