Wands up! Celebrating the book release of J.K. Rowling's 'Fantastic Beasts: The Crimes of Grindelwald', Scholastic delightfully 'stupefied' Potterheads in the Philippines today with an exclusive movie screening to the cinematic release of the anticipated second screenplay of the five-part wizarding adventure.
"Fantastic Beasts: The Crimes of Grindelwald Original Screenplay Book Launch and Block Screening" was indeed a magical sight as Potterheads arrived with their cloaks, wands and the unmistakable Hogwarts-house scarves at the event held at My Cinema in Makati City.
The event welcomed over 80 guests consisting of winners of Facebook Contests by National Book Store and Powerbooks, celebrity book bloggers, and "wizards" from the official Pinoy Harry Potter (Hogwarts Philippines) Fan Club.
Apart from experiencing the wizarding adventure on a silver screen, the guests (wizards and muggles alike) took part in spellbinding fun with Cosplay, Photobooth sessions, and poster and book giveaways. Meanwhile, in a game of 'Snake Hunt', mystery prizes awaited those who could find their own 'Nagini' in the form of toy snakes hidden in the cinema. Whereas in the delicious 'Chocolate Gold Hunt', participants had to be diligent 'Seekers' in finding  golden chocolate coins bearing an image of the original screenplay book cover to win a copy of 'Harry Potter & Fantastic Beasts: A Spellbinding Guide to the Films'.
Published by Scholastic, the beloved Harry Potter spin-off has captured many hearts since its debut, in a worldwide mania (that may prove superior to any love potion that has ever existed)! An international sensation, J.K. Rowling's five-part 'Fantastic Beasts' adventure series has swept book enthusiasts across the globe, with the movie adaptation of the first part, 'Fantastic Beasts and Where To Find Them (Original Screenplay)' emerging as one of the biggest worldwide box office hit in 2016.
"Once a story is read, it no longer only exists within the pages of a book. Stories live in our minds, and become part of us forever. Likewise, J.K. Rowling's 'Fantastic Beasts' has taken flight and found a home in our hearts. It's truly wonderful to see fans of the wizarding world come together as a community to experience the magic with Scholastic. It's such a positive feeling that no amount of 'Dark Magic' can defeat!" enthused Joyce Bautista, Trade Manager of Scholastic in the Philippines.
At the end of 'Fantastic Beasts and Where to Find Them', the powerful Dark Wizard Gellert Grindelwald was captured in New York with the help of Newt Scamander. But Grindelwald escapes custody and sets about gathering followers, most unsuspecting of his true agenda: to raise pure-blood wizards to rule over all non-magical beings.
In an effort to thwart Grindelwald's plans, Albus Dumbledore enlists Newt, his former Hogwarts student, who agrees to help once again, unaware of the dangers that lie ahead. Lines are drawn as love and loyalty are tested, even among the truest friends and family, in an increasingly divided wizarding world.
This second original screenplay from J.K. Rowling, illustrated with stunning line art from MinaLima, expands on earlier events that helped shape the wizarding world, with some surprising nods to the Harry Potter stories that will delight fans of both the books and films.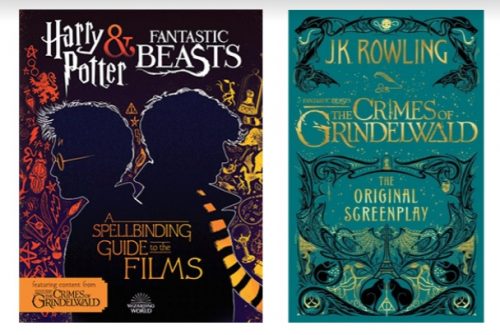 Scholastic's brand-new releases 'Fantastic Beasts: The Crimes of Grindelwald Original Screenplay' and 'Harry Potter & Fantastic Beasts: A Spellbinding Guide to the Films' by J.K. Rowling are now available in all National Book Store and Powerbooks in the Philippines.