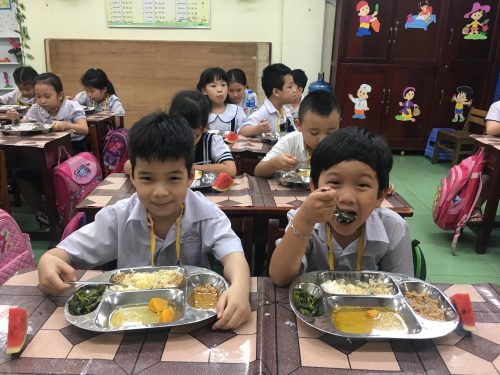 Parents can now worry less when it comes to obtaining the proper nutrition for their children.
One of the appreciable things about school food is that a parent can be assured that their kids are given access to a balanced and healthy meal. Imbalanced diet and health problems have been relevant to the Philippines for a long time.
The lack of access to proper nutrition is also leading to food insecurity and hunger among Filipino children. Once they start growing, they find it hard to change the lifestyle that they're used to which is why schools are now taking immediate action to address the problems that parents and children face.
To further promote healthy eating habits for children, Ajinomoto, being a company that boasts vast experience in providing menu to hospitals and food services, has deployed school meal projects by means through their software around the globe – in hopes that children who are suffering from malnutrition and imbalanced diet are supplied menus from schools.
Their current program offers 120 available set menus with over 360 non-repeatable dishes, all of which are diverse, delicious and nutritionally well balanced. This concept could be one of the good practices when Asian countries tackle the improvement of the nutritional status of school meals. It may also be possible to expand the program further, to places such as the U.S. and Europe.
"Being nutritionally equipped with the right food provides for a healthy learning environment for children. By being able to successfully deploy this program, we consider it as a great opportunity to improve nutrition standards for school meals and extend this to not just the children in the Philippines but to children across the globe who are not given the chance for a healthier lifestyle." expressed Hiroharu Motohashi, the current Deputy General Manager, Food Products Division at Ajinomoto Co.
"Eating healthfully makes a difference for them, not only in the future, but now. A healthier body contributes to a healthier mind, that's why at Ajinomoto, we do only what we do best in because we believe that no children in the Philippines should go hungry and be deprived of better nutritional assistance." Motohashi added.