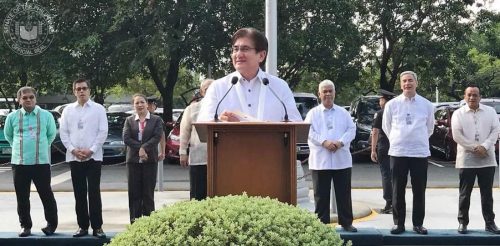 As the country is once again gripped by the election fever, Senator Gregorio B. Honasan II urged the officials and employees of the Senate of the Philippines to stay the course and remain committed to serving the institution.
"You must keep the faith and stay the course. Do not be distracted by the partisan political noise," the senator said.
Honasan, a former military rebel and one of the principal players of the EDSA revolution, reassured the Senate of the Philippines employees that the current situation in the country is stable.
"I am not distracted because I have stood in the gates of Malacanang three times in my life, in full combat gear, without an invitation, except the one from my conscience. So don't worry. We always have a choice," Honasan said during Monday's flag-raising ceremony.
"Democracy is not perfect but as Winston Churchill said, democracy is the worst form of government, with the exception of others we have tried before. So again, stay the course, keep faith, work hard, pray hard and let us work together to help make the next generation of citizens and leaders, smarter, stronger, healthier, safer, happier," he said.
Filing of certificates of candidacies (COCs) for more than 18,000 local and national positions up for grabs in the May 2019 midterm polls started last Thursday, October 11 and will run until October 17.
Senators Aquilino "Koko" Pimentel III, Bam Aquino, Sonny Angara, Nancy Binay, JV Ejercito, Grace Poe-Llamanzares and Cynthia Villar are the re-electionist members of the upper chamber.