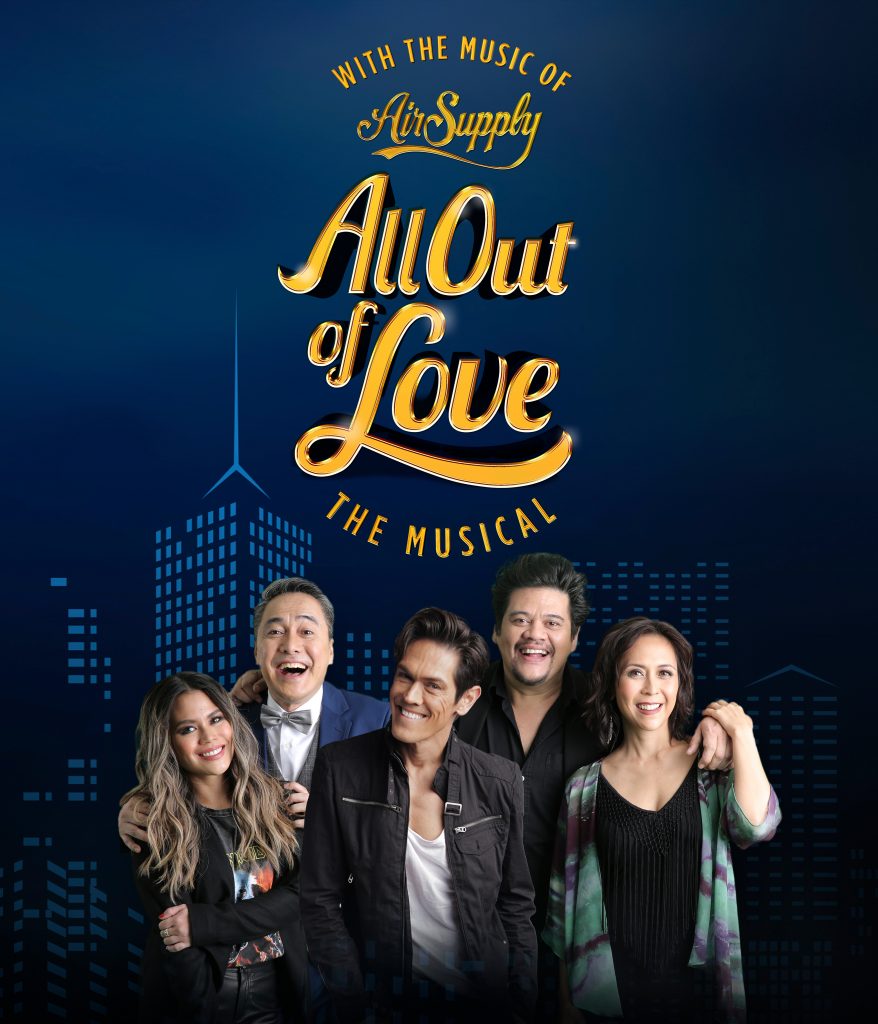 "The talent they bring in is extraordinary. They can sing, they can dance, and they are brilliant actors," says All Out Of Love: The Musical co-director Jacinta John when asked how she felt about the Filipino cast of the latest feature currently being staged at Resorts World Manila's (RWM) Newport Performing Arts Theater. The musical held its world premiere last October 18 and is on a limited run this October.
Aside from the talented Jacinta John who is a seasoned actress, producer, and director, the creative team behind the production are Australian experts in their respective fields headed by award-winning stage director Darren Yap; musical supervisor, arranger, and orchestrator Stephen Amos; and choreographer Yvette Lee among others. The musical is based on the libretto written by Canadian Jim Millan.
Complementing the Australian creative team is a cast of Filipino talents led by MiG Ayesa, Rachel Alejandro, Tanya Manalang, Raymund Concepcion, and Jamie Wilson.
Integrating all the right elements for All Out Of Love: The Musical results in a feel-good Rom-com story that Filipino audiences can truly appreciate. And as to why the musical's world premiere was held in the Philippines, Musical Management Asia Pacific producers Naomi Toohey and Dale Harrison said they chose the country because of how Filipinos love Air Supply. "The Filipino market is a very strong market for Air Supply and they perform here quite often because there's a big love for the music. So it's important that we launch the show in the strongest possible way with a very strong cast," shared Harrison. Toohey agrees that the Philippines is the right jump-off point for global performances stating that "it seems like the natural choice. Even Russell Hitchcock from Air Supply said recently that he couldn't imagine it starting anywhere else".
While indeed many Filipinos are big Air Supply fans, the producers have also noted that they can expect so much more than the songs from the musical, mainly from the beautiful story of rockstar Jaime Crimson (Ayesa), his singing partner and love interest Rayne (Rachel Alejandro), embattled manager Tommy King (Concepcion), and Tommy's ambitious daughter Stacie (Manalang). "It's a great show to take a date to and fall in love," assured Harrison.
"I think you can look forward to a really feel-good show. You'll hear Air Supply songs performed as love songs between two lovers, while a father and daughter remember their love for each other. I think that there will be more resonance to the songs because they're singing them in desperation for their love, so it's going to be a really exciting thing," said Toohey.
"We are faithful to the songs, and give them a little bit of modern edge. The story is beautiful. There's a lot of comedy in the story but also a lot of love––trying to find love and recapturing it. So there's something for everyone in the show," shared Amos.
While Air Supply ruled the airwaves during the '80s, today's generation of Filipino audiences are still familiar with their songs. "All Out of Love" was even used in such big movie blockbusters as Deadpool 2 (2018) and The Perks of Being a Wallfower (2012) among others, and in numerous TV shows as well.
"I grew up listening to Air Supply. I love hearing them in the movies and around us all the time," said John. "Air Supply has been around for a long time, they've been creating these beautiful love songs that seem to connect with people––young and old and the world around. So they've seem to be able to live long in all of our hearts because of that," she added.
With its funny kilig and hugot moments, the musical is poised to be a smash hit success.
Tickets to All Out Of Love: The Musical are available at the RWM Box Office and TicketWorld outlets. Visit www.rwmanila.com or download the RWM Mobile App for the complete show schedules.