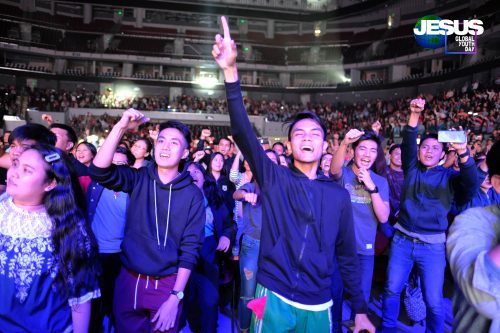 "The Lord said to me, "Do not say, 'I am too young.' You must go to everyone I send you to and say whatever I command you." This verse from Jeremiah 1:7 written more than 2,600 years ago rang loud for three days among 50,000 youths from all over the Philippines who joined the first ever Jesus Global Youth Day (JGYD) celebrations nationwide.
JGYD was held from August 8 to 10 at the Mall of Asia Arena in Pasay City, Philippines, and featured internationally sought-after Christian speakers, pastors from leading churches around the world, and renowned Christian artists.
Attendees were able to listen to best-youth engagements practices from some of the most successful youth ministries as well as worship with different worship bands from other nations with their unique cultural sounds.
More than just an event, JGYD is a movement for the youth to proclaim their love for Jesus Christ, promise to live committed lives to Him, and pledge to lead the change their generation needs. The festivities in MOA were only part of more than 500 simultaneous celebrations across the Philippines. Some of the local JGYD events were held in Ilocos Norte, La Union, Cebu, Bacolod, Cagayan de Oro, Quezon, Rizal, Laguna, and Benguet.
Globally, more than 83,000 host sites and churches held their own JGYD programs, like the churches in Russia and Africa. Organizers said it is a challenge to estimate the actual number of people reached by JGYD through social media, video streaming, and local JGYD celebrations, considering the video highlights are still being viewed across the globe.
Speaking on the opening day of the Global Pastor's Congress on the Next Generation, Bishop Leo Alconga, president of the Philippines for Jesus Movement, underscored how "JYGD aims to revive and restore the youth of the land and spur them to transform the nation." The first day of JGYD featured topics aimed at Christian workers who are increasingly finding it challenging to engage the youth in the communities.
World Evangelical Alliance Director General Bishop Efraim Tendero, the visionary behind JGYD, looked back at when JGYD was still in the planning phase, saying, "JGYD was but a vision we had four or five years ago. We wanted a global event for Christian youth where we could prepare them as leaders of the next generation. I feel blessed to have been able to witness such a powerful event."
"We want to encourage the youth to reach out to their own generation and share the message of the gospel and the love of Jesus Christ," reiterated Ron Luce, CEO of Generation Next and co-chairman of the JGYD global advisory council, who spoke to the audience on all three days of JGYD. Underlining the indispensability of the youth in global evangelism and discipleship, he made available to everyone his free e-book, "10 Challenges of a World Changer," as a start-up guide.
Elvie Bumanglag, who downloaded the e-book, commented on Facebook, "Amazing, Exciting and can't wait to read every page. God bless this ministry for the youth. This is the time to shake the new generation, to stand up for Jesus and make Jesus Christ known to the ends of the earth. Praying for this ministry!"
Also speaking on the first day, Pastor Russell Evans, senior pastor of the Planetshakers Church in Melbourne, Australia, encouraged leaders by saying, "Young people are bound by insecurity, fear, situations that they are facing, but God is looking for a generation of leaders that say, 'I'm gonna look beyond the mess and look for the potential in a young person.'"
Popular evangelist and founder of Life Without Limbs, Nick Vujicic talked about how God used his disability to lead more people to Christ. He encouraged the youth to share their testimonies, saying, "Your history is His story. If God can use a man without limbs, God can use you." Nick added, "If you take away the D at the end and put G and O before the word 'disabled' it says God is able!"
Other speakers during Day 1 included Pastor Matts-Ola Ishoel from Russia, Bishop Opoku Onyinah from Ghana, ex-gangster and now pastor Jason Lozano from the US, actor Stephen Baldwin, and Samuel Dhinakaran from India.
Day 1 attendee Elleen Madronio, shared on Facebook, "Blessed to be part of this historical event where people around the world are united in Jesus' name. To God be all the Glory! Salute to those people who were behind this event. God bless you all!"
The Youth Leader Congress on Day 2 encouraged the Christian youth to reach their own generation.
Bishop Oriel Ballano, senior pastor of Doulos and G12 national leader, exhorted the youth, "Our vision for JGYD is to see a young generation equipped and empowered to change lives through the Word of God. Churches, teach your young people to be a disciple and leader until they become agents of change. One day, together, we will change the world."
While Luce added, "As pastors of a new generation, as followers of Christ reaching the young generation, we can surf the waves of change. We don't change the message; we just change how we communicate it to make sure we impact as many as possible."
Other notable speakers for Day 2 included Bryce Manderfield, author and president of Young Pastors Association of Latin America, and Dr. Paul Enenche, pastor of a church the houses 100,000 people in Nigeria.
Day 3 saw long-time Christian youth leader and Philippine Senator Joel Villanueva address the crowd about the importance of reaching the youth for Christ in the country's future. While Nick Hall, youth evangelist and founder of PULSE, challenged the crowd, saying, "God is looking for a generation who is willing to unfollow a lot of things to follow the One who truly matters."
Some of the Christian artists who led people in worship with their unique blend of music were Planetshakers from Australia, Bethel Music from the US, the husband and wife worship duo of Austin and Lindsey Adamec, Joe Praize from Nigeria, Sheldon Bangera from India, Miel San Marcos from Guatemala, Ping Loong from Singapore, and CCF Exalt, KKB Worship, and Rommel and Susan Guevara from the Philippines.
"We are so blessed. It's really an amazing night. To God be the Glory!" shared Mary Jane Hipolito on social media after attending the final night of JGYD.
JGYD started as a prayer for a global event for Christian youth where young people could unite in the name of Jesus Christ and at the same time empower and inspire leaders all over the world to reach out and disciple the next generation.
This may be the first-ever JGYD, but it surely won't be the last. Ron Luce hinted at how he hopes the celebration to happen again within the next three years.