In this day and age of social media where people have access to diverse news and content, it's refreshing to see stories of families who genuinely care for the welfare of others. These families, guided by their Filipino values, dedicate their time and resources towards helping others and giving back to communities through various advocacies.
These generous acts of kindness, from one family to the rest of the community, are what the country's leading fast-food brand, Jollibee, honors through the Jollibee Family Values Awards (JFVA). Now on its 9th year, the JFVA is a recognition program that celebrates the contributions of exemplary Filipino families and their advocacies.
Since its launch in 2011, the JFVA has been giving awards to outstanding families whose advocacy programs are guided by values such as generosity, compassion, love for community, and the environment, among others.
Last year, 10 families were recognized for exemplifying these values and championing the welfare of Filipinos in their communities.
"The JFVA served as an avenue for us to widen our reach towards our goal of creating a more inclusive future for persons with disabilities or PWDs," said Nilo delos Reyes. Around 1,500 PWDs have already benefited from his family's advocacy by receiving prosthetic legs, wheelchairs, and other mobility devices.
The Arquiza family was also recognized at last year's awarding. By converting an old farmhouse into a library brimming with books, computers, and other learning resources, their Aklatan Sa Kostal (ASK) project has improved the education of underprivileged children from far-flung areas of Camarines Norte, planting the seeds of education among more than 8,000 students.
Touch one life, embrace the family, transform the community: this is the belief of Henry and Lisa Manuncia who, along with their children, started the ECare Compassion Ministries, to provide counseling to Filipinos who experience psychological trauma brought about by natural calamities.
"I just really want to see dignity back in the hearts of every Filipino," said the man of the family, Henry Manuncia. Today, they are adding more volunteer counselors in Panay, Compostela Valley, and Metro Manila, in the hopes of expanding the scope of their advocacy.
This year, Jollibee is again accepting nominations to the 9th Jollibee Family Values Awards as it once again searches for inspiring stories of Filipino families who exemplify Filipino values through their various advocacies.
Anyone may nominate an exemplary Filipino family whom they admire, including their own. Nomination criteria are as follows: magnitude of the contribution of the family's advocacy to the community or institution, relevance of advocacy in addressing pressing needs, sustainability of their efforts, degree of involvement and participation of family members in the advocacy, and ability to surpass challenges and special circumstances.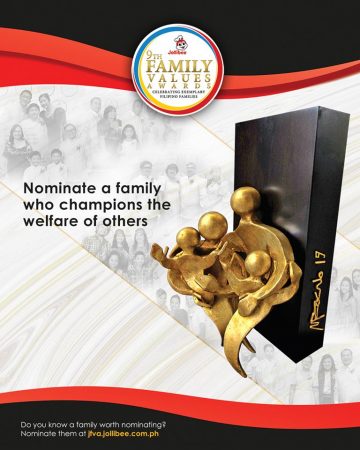 The 9th Jollibee Family Values Awards will recognize five outstanding families as grand winners. They will each receive a P300,000 cash prize, a trophy designed by world-class sculptor Michael Cacnio, and Jollibee gift certificates amounting to P10,000.
An overseas Filipino worker family will receive the OFW Family of the Year award, together with a P300,000 cash prize, a Michael Cacnio trophy, and P5,000 worth of Jollibee gift certificates.
Seven families will also be recognized with special citation awards based on their advocacies centered on education, environment, children, persons with disabilities, minority groups, youth empowerment, and agriculture. The winners will be awarded P100,000 cash, a plaque of recognition, and Jollibee gift certificates.
Those who wish to nominate an admirable family must submit the accomplished form which can be downloaded at the official website jfva.jollibee.com.ph.
Entries may be sent via mail to the 9th Jollibee Family Values Awards, Stratworks, Inc., 2/F Zaragoza Building, 102 Gamboa Street, Legaspi Village, Makati City.
Deadline for submission of nomination forms is on July 31, 2019.