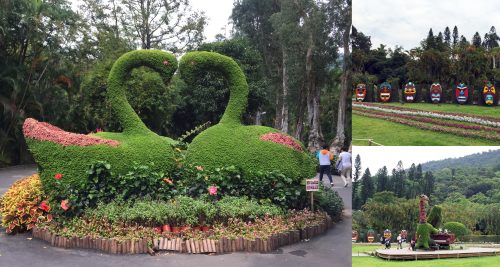 In recent years, the hipster style and leisure tour are popular in Taiwan.
Taipei MRT is convenient. The cultural and creative market at Taipei Expo Park and Shilin Official Residence are the hot destinations on the red line of MRT. Taipei Expo Park is located beside MRT Yuanshan Station in the city center of Taipei. The park is spacious with a large area for picnic. The splendid flowers take turns blooming in four seasons. While the creative market on holidays and Maji Food & Deli are highly recommended. There are so many beautiful scenic attractions in the surrounding areas.
At the end of April and beginning of May every year, hollyhock flowers blossom on a large scale. During this period, Expo Park is visited by a large number visitors. It's the perfect time for all family members to tour the Expo Park.
The visitors can walk on the trail and be surrounded by flowers and take photos. Many engaged couples even have their outdoor wedding photos taken.
In the afternoon, the creative market opens selling all kinds of hand-made leather bags, original garments, special accessories, and design daily commodities by young designers and can only be bought at the market. The exotic food court offers a variety of flavors to the tourists. The arrangement of the containers together with the vintage tables and chairs create a unique dining space full of hipster style.
Shilin Official residence is a popular scenic spot favored by visitors to Taipei. This was the official residence of the former president of Taiwan, Chiang Kai-shek.
Every May, you can witness the tulip exhibit at the Shilin Official Residence. There are also rose exhibits in April and August, orchid exhibit in May, and chrysanthemum exhibit in November. There are flower exhibits in almost all year round, so it is highly recommended for flower lovers. The visitors can walk about 7 minutes to Shilin Official Residence after exiting from Exit 2 of MRT Shilin Station.
For more information, please visit the website of Tourism Bureau, Taiwan, http://taiwan.net.ph/ or https://eng.taiwan.net.tw/.