By Richard Mamuyac
If you are looking for more than just the latest products, best deals, sales and promotions in a shopping mall, the posh Estancia Mall at Capitol Commons in Pasig City is the place to be for you, your friends or colleagues this month of July.
In partnership with The After Six Club, Estancia will be having a series of community empowerment workshops featuring some amazing community builders, thought-leaders and digital marketing champions in the freelance and entrepreneurship arena this month.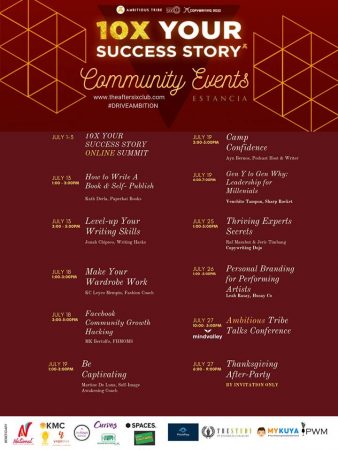 The good news is, all the workshops are free and open to all.
The After Six Club Chief Encourager Kassy Pajarillo shares, "Our goal is for us to make people know and be aware that we have the obligation and the right to keep on learning, to go for what truly makes us happy and do not forget about contributing to the society. It's a lifelong journey."
Filipino dream advocates "The Ambitious Tribe" of The After Six Club is spearheading the month-long activation event on community empowerment through a series of talks. This followed their very successful 10X Your Success Story Online Summit held last July 1-3, 2019.
The free talks in Estancia Mall will begin on July 13, offering events every Thursday and Friday (1pm to 7pm); Saturdays (1pm to 5pm); and will conclude on July 27 with the Ambitious Tribe Conference.
To get your free tickets, you may contact Estancia at Capitol Commons via 09985670807. But you need to hurry to reserve your complimentary seats. Once you run out of the free slots, there's a minimum regular walk-in rate but proceeds will be donated for public school kids learning kits.
National Bookstore Foundation will be providing the kits working alongside crucial collaborators Copywriting Dojo and the Study by Enduran Colleges.