AirAsia takes a stand in the fight against HIV/AIDS through its latest offering of a red-hot dish. Together with (RED), the world's best low-cost airline has created the INSPI(RED) Burger, a special inflight meal to raise awareness and support for people living with HIV/AIDS.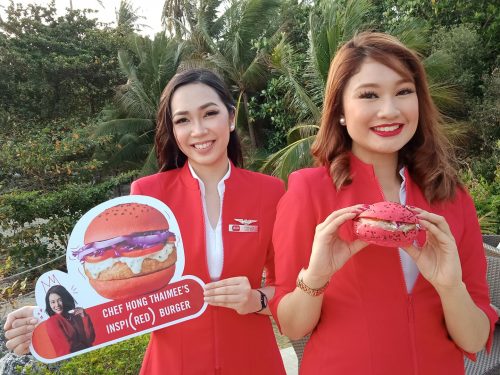 Created by New York-based (RED) Chef Ambassador Hong Thaimee, the burger draws on her Northern Thai roots to deliver a truly East-meets-West experience. It features a chicken patty infused with fish sauce, kaffir lime leaves and lemongrass, topped with zesty nam prik noom mayo (green chili mayonnaise), shredded purple cabbage and tomato on a red beetroot bun.
For every INSPI(RED) Burger sold, 10% of sales will go to the Global Fund to support HIV/AIDS testing, counseling, treatment and prevention programs in the Asean region.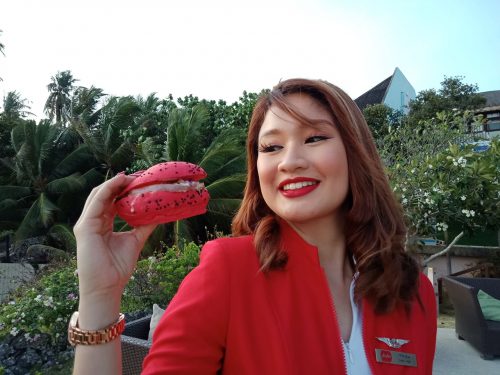 (RED) Chef Ambassador Hong Thaimee said, "As a Thai chef based in New York, I wanted to combine the best of both worlds – Thai flavors and the classic all-American burger – to make a meal that would be easy for airline passengers to enjoy. Since I started my culinary journey, it's been my mission and passion to bring Thai food to a wider audience, and it's exciting to think that I can introduce the flavors of my hometown of Chiang Mai to the 8 million guests who fly with AirAsia monthly."
(RED) Chief Operating Officer Jennifer Lotito said, "In support of our culinary campaign, EAT (RED) SAVE LIVES, we're extremely proud to see AirAsia team up with Chef Hong to take (RED) to the skies with the INSPI(RED) Burger. It's not only a delicious option for passengers, it brings real awareness to the AIDS fight and helps raise critical funds to finance HIV/AIDS programs in Asean."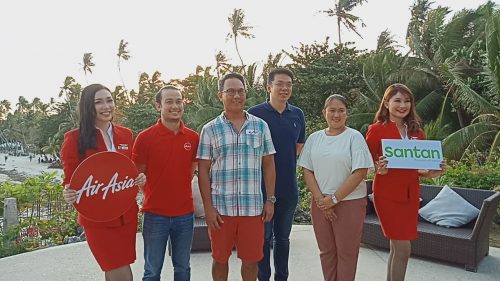 AirAsia Philippines President and CEO Ricardo P. Isla said, "Filipinos love a good burger. And we are really excited to reveal to you our latest Santan meal, the INSPI(RED) Burger, the result of the talented hands of celebrity chef and (RED) Chef Ambassador Hong Thaimee. AirAsia is committed to its partnership with (RED) in its quest to end HIV/AIDS and we invite our guests to join us in this effort."
Guests are encouraged to pre-book the INSPI(RED) Burger with a complimentary drink at a promotional price of only PHP140.00 on AirAsia flights across all AirAsia destinations.*
AirAsia in the Philippines is also returning favorite Filipino classics to its Santan inflight menu such as the Adobo Espesyal, a well-loved and a must-try dish that features chicken cooked in the perfect blend of soy sauce, vinegar and black pepper.
Aside from the Adobo Espesyal, Salisbury Steak is also being added to the in-flight menu. The classic comfort food, which is a personal favorite of our Philippine CEO, features a juicy beef patty served with creamy mushroom gravy over soft white rice.
End your meal on a sweet note with a Cinnamon Roll or Ube Cheesecake, a well-loved Filipino classic.
Santan meals are available for pre-booking via My Bookings on airasia.com. Pre-booking provides guests with cheaper-than-airport prices, a wider variety of meals and priority meal delivery on board.
* INSPI(RED) Burger is available for pre-book on all flights except those operated by AirAsia India (carrier code I5) and AirAsia Japan (DJ). Prices are subject to daily currency exchange rates.