AirAsia has unveiled a new Celebrity Chef Series meal, Chef Hong's Korean Sweet & Spicy Chicken, the latest addition to their Santan inflight menu.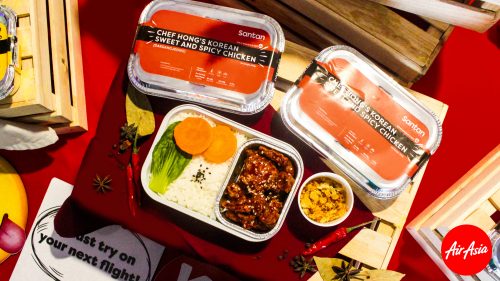 The new 'Korean Sweet & Spicy Chicken (Dakgangjeong)' served with fluffy jasmine rice and vegetables is part of a special meal collaboration with the Korean TV personality and restaurateur, Chef Hong Seok­Cheon.
Its key features include juicy chicken bites glazed in sticky, sweet and spicy Korean sauce, topped with crispy fritters ­ everything you expect to fall in love with in a Korean superstar.
AirAsia Philippines Head of Ancillary Karlo Sanchez said, "Showcasing the flavours of the region at exceptional value­for­money has always been an integral part of our service offering. Korean cuisine has also become increasingly popular when it comes to requests from our guests, which is why we're pleased to bring Chef Hong Seok­Cheon's talent and the best of Korean food to the skies."
Seeing that Korean culture and heritage taking the world by storm, Chef Hong reinterprets his childhood comfort food, 'Korean Sweet and Spicy Chicken (Dakgangjeong)' with his own signature twist, turning it into a delectable inflight dining experience for all to enjoy.
Chef Hong said, "This is a dish I enjoyed growing up and even throughout all my TV shoots. I'm thrilled to be collaborating with AirAsia on this exciting project to bring Korean cuisine to more people," he reveals, adding that dakgangjeong has always been his go­to comfort food.
Guests are encouraged to pre­book Chef Hong's Korean Sweet & Spicy Chicken (Dakgangjeong), value meal with complimentary drink now for only PHP140 for AirAsia Philippines flights (carrier code Z2) across all AirAsia destinations*.
Santan meals are available for pre­booking via My Bookings on airasia.com. Pre­booking provides guests with cheaper­than­airport prices, a wider variety of meals, and priority meal delivery onboard.
For latest AirAsia news, activities and promotions, please follow AirAsia on Twitter (twitter.com/AirAsia) and Facebook (facebook.com/AirAsia).
*Chef Hong's Korean Sweet & Spicy Chicken (Dakgangjeong) is available for pre­book on all carrier codes except AirAsia India flights (carrier code I5) and AirAsia Japan flights (carrier code DJ). Prices are subject to daily currency exchange rates.