In Paramount Pictures' Dora and the Lost City of Gold, Dora's father, Cole, is played by leading Latinx actor, Michael Peña (Ant-Man and the Wasp, Netflix's Narcos: Mexico).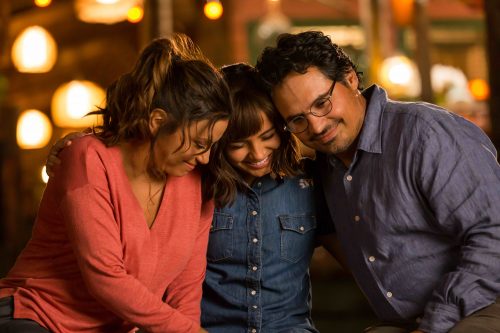 Dora's parents are adventurous academics who have raised their daughter to be fearless, resilient and resourceful. Their life in the jungle has made Dora self-sufficient and sensitive to the world around her. But as Elena (Eva Longoria) and Cole prepare for their most important and dangerous expedition, they decide to protect her — and hopefully help her learn to cope with the world outside the jungle — by sending her to live in the city with her cousin.
Peña was well aware of Dora because his son was a fan of the series and had Dora the Explorer games and books in both English and Spanish. "She is a little superhero, in a way," he says. "It's a great story and the main character is Latinx, so there was no way for me to pass this up."
A scientist and scholar as well as an intrepid explorer, Cole's city survival skills are a bit rusty. "He's trying to guide his kid without telling her exactly what to do," the actor says. "His life experience is pretty much confined to the classroom and the jungle, so he has very limited practical knowledge to impart. But he tries to warn her about the dangers of the big city as best he can."
Peña says that the best scripts inspire him to improvise dialogue for his character. "With this, I wanted to find some humor and some parental drama. Everyone was on board with that and we did some fun things, like have Cole give Dora outdated safety tips like, 'Don't go to a rave.'"
Isabela Moner says moments like that were hilarious for everyone on set. "I would stick around the set all day just to hear his improv," she recalls.
Peña, a Chicago native who grew up in the city's Mexican enclave of Pilsen, says the film's message of striving to be true to oneself is important for young people of all stripes. "I thought it was awesome," he says. "They are all explorers in a situation where they have to follow their hearts. That's the most important thing."
Peña was impressed with Moner's ability to capture the essence of the character, while still making it her own. "You will definitely recognize Dora. Isabela's level of commitment was amazing and she makes it feel a little like an old-school Indiana Jones adventure. The sets and effects make you wish you could really be there."
In Philippine cinemas August 14, Dora and the Lost City of Gold is distributed in the Philippines by United International Pictures through Columbia Pictures.