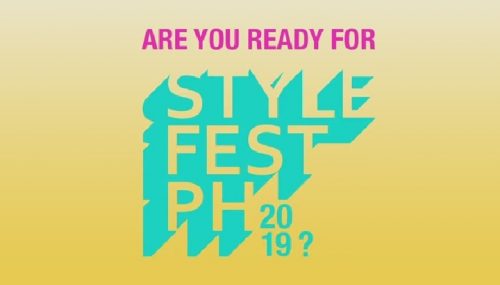 Calling all aspiring fashion designers! You still have the chance to join the biggest fashion event of the year.
Globe Telecom's lifestyle brand 0917 Lifestyle and Saga Events have announced that interested parties will now have until Friday, July 26, 2019 to join StyleFestPH 2019's Designer Mentorship Program or DMP.
"Hopefully the extension will give future fashion designers –who are either busy with school or work– and others who weren't able to beat the initial deadline for various reasons, another opportunity to grab a life-changing experience," Leah De Guzman, head of 0917 Lifestyle, says.
Just like last year, StyleFestPH 2019 intends to give Filipinos an unforgettable fashion experience especially with its DMP, a designer mentorship program that aims to help create business opportunities to young designers and expose them to world class standards.
The fashion expo also aims to teach participants about creative direction and business know-how in order to succeed, using digital platform opportunities and the help of retail industry experts who can assist and mentor them with their design skills and how to go to market their creations.
Aspiring designers have one more week to submit their entries and design portfolio at the StyleFestPH home page at stylefest.ph. Only entries received from June 24 to July 26, 2019 through stylefest.ph will be accepted.
The nationwide search is open to Filipinos 18 years old and above, either students or owners of their fashion design business.
To join, just visit stylefest.ph. Together with their completed application form, applicants should be able to present a design portfolio composed of at least 10 items that focuses on two categories: Streetwear, which combines the use of gadgets in everyday clothes such as outerwear, pants and accessories; and Ready-To-Wear, either for day or night wear.
All application forms and design portfolios will be reviewed by the "style council" which is composed of renowned fashion designer and retail experts such as Inno Sotto; contemporary designer Carl Jan Cruz; Paulo Campos, CEO of Zalora; Leah De Guzman, head of 0917 Lifestyle; and fashion stylist Sidney Yap.
The entries will be judged based on the following criteria: 25% each for Creativity and Originality, Overall Theme and Cohesiveness of the collection, Technical Construction and Craftsmanship, and Retail Marketability. 16 entries will be accepted in the first phase of the selection process.
Out of the 16, eight finalists will be given the chance to go on the runway where winners for 0917 Lifestyle and Zalora will be chosen.
Judging of the StyleFestPH winners will happen during the finalists' fashion show on November 5, 2019, with the winners announced at the end of the show.
Prizes include P50,000 cash prize for the winners of 0917 Lifestyle and Zalora brands, plus mentoring from the style council and presentation of their Capsule Collection in the StyleFestPH runway. The winners will also have the opportunity to collaborate with 0917 Lifestyle and Zalora for their collections.