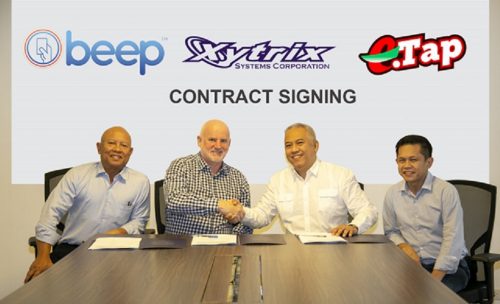 AF Payments Inc., the company behind the beep™ payment system, recently signed a Business Partnership with Xytrix Systems Corporation as an Authorized beep™ loading partner.
This Partnership aims to provide additional beep™ Loading options to 6M beep™ Cardholders by way of unmanned beep™ Loading kiosks deployed in strategic transport hubs available 24/7.
Xytrix Systems Corporation is a 20-year-old IT Products, Solutions, & Services Provider with a competent track record in servicing the Telco, Enterprise, Finance, Education, Manufacturing, BPO, & Government markets.
In photo (L to R): Percy Hernandez (President of eTap), Peter Maher (CEO of AF Payments Inc.), Dan Evangelista (President of Xytrix) and Marlon Portugal (CTO of eTap).