Top gamers Bren Limitless and Dream High Gaming emerged as overall Champions in the first ever "Juicy Legends Tournament" that culminated at Isetann Recto Mall in Manila. The two-month "Juicy Legends Tournament", staged by ULVL Gaming and sponsored by ARC Refreshments Corp.'s Juicy Lemon brand, served as an e-sport battleground for avid gamers of the popular Mobile Legends: Bang Bang.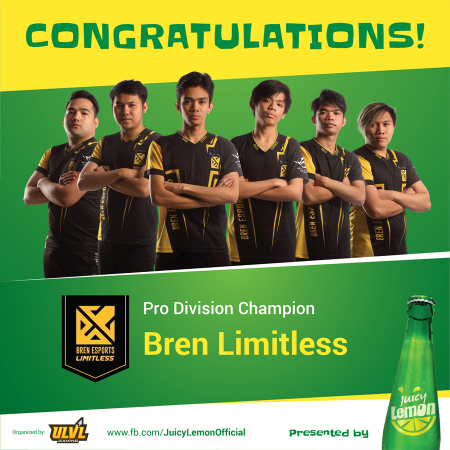 Bren Limitless took over the Pro Division category and bagged consecutive wins in a best-of-five game against competitor Aether. The team won the coveted trophy and Php100, 000 cash prize for championing the Grand Finals.
Christian Fajura, Bren Limitless' team captain and also known as Rafflesia, expressed his happiness on behalf of the team for winning "Juicy Legends". "Masaya ako kasi at least 'yung effort namin, yung mga practice namin gabi-gabi, ay nagkaroon ng bunga."
Fajura was also grateful for the people behind the tournament for making the event possible. "Thankful kami sa ULVL and Juicy Lemon kasi kung 'di dahil sa partnership nila, hindi mabubuo itong tournament na ito at wala rin kami rito."
Known as the underdog in tournaments, Dream High Gaming, on the other hand, proved detractors wrong when the team topped the Amateur Division and took home Php50, 000. Liquid and Finesse Titans won second and third place, respectively, with Php20, 000 and Php10, 000 each.
Allen Baloy, also known as G r e e d of Dream High Gaming, expressed his joy in winning the tournament despite being labelled as the underdogs. According to him, tournaments like this serve as a platform for e-sports athletes in the country to grow and showcase their skills.
"Sobrang sarap ma-experience na maglaro sa mall tapos maraming tao. Kada laki ng mga tournaments, palaki rin nang palaki ang community. Mas ma-aappreciate ng mga tao ang Mobile Legends not as an addiction, but as a serious and fun," said Baloy.
Hosts Roadfill from the popular comic duo Moymoy Palaboy and founder of ULVL Gaming, and Kimbee hyped up the event as fans and avid gamers witnessed the battles between teams. Being a gamer since his childhood, Roadfill mentioned that he has always wanted to establish a group that supports e-gamers in the country.
"Nung nakita kong nagkakaroon na ng spot sa society natin 'yung gaming, natuwa ako kasi dati parang minamaliit kami. As a gamer myself, marami talaga akong kilala na talagang passionate when it comes to gaming. Nakikita kong malaki talaga ang potential dahil maraming gamers sa Pilipinas. Lalo na ngayon, part na and Mobile Legends ng SEA Games at narerecognize na rin siya as sport," said Roadfill.
Roadfill also said that being supported by ARC Refreshment's Corp's Juicy Lemon for the tournament is a milestone achieved for the e-sports community. "Nakakatuwa na sakto sa vision ko, which is to support the Mobile Legends community, ang pagsuporta naman ng Juicy Lemon for this tournament. Naging open sila sa idea kaya nabuo itong project na 'to."
Advocacy for sports development and the values associated with it pushed ARC Refreshments Corp., the company behind "RC Cola Liga ng Bayan" 3×3 Basketball Tournament, to support ULVL's "Juicy Legends Tournament".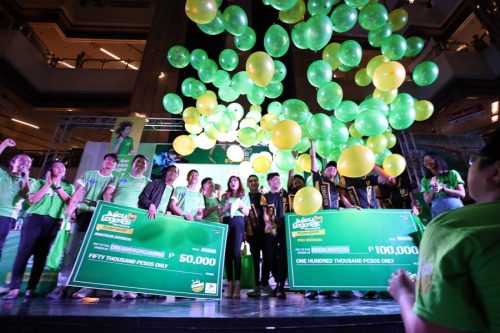 "We really wanted to do e-gaming and we were looking for a good partner to tie up with Juicy Lemon. We figured this tournament would be a good fit. E-sport now is gaining attraction. We wanted to encourage that and to promote sports of different types. E-sports promote teamwork, sportsmanship, and resilience. I think the younger generation has different ways of understanding, doing and showing these values. Playing sports and e-sports would be some of the effective ways to hone them more," said James Loverio, Head of Marketing, ARC refreshments Corporation.
Juicy Lemon is the refreshing, low-calorie, lemon-flavored soft drink of ARC Refreshments Corp., the manufacturer of other well-loved beverages namely RC Cola, Seetrus, Fruity Soda Orange, Arcy's Rootbeer and Rite 'N Lite.