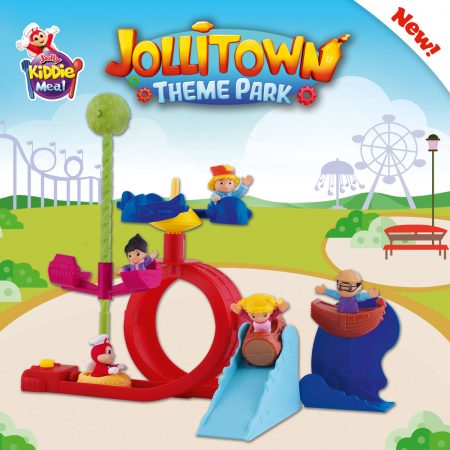 This January, kids and their playmates can spend fun-filled afternoons building and exploring different rides in their very own amusement park with the latest Jolly Kiddie Meal toys, the Jollitown Theme Park!
With the newest set of collectible toys from the well-loved fast-food brand, kids will have lots of exciting playtime as they join Jollibee at the Roller Coaster, Hetty at the Water Slide, Popo at the Plane Ride, Twirlie at the Twirl Drop, and Yum at the Swinging Ship Ride.
Boost Jollibee through the thrilling roller coaster loop by connecting the track and launcher, placing him on the track, and pressing the button. Kids can give Hetty a push at the water slide by placing her on top of the slide and pressing the lever to release the log.
Kids can make Popo fly around by inserting the ripcord and pulling it to watch his plane spin. Pressing the button at the twirl drop can give Twirlie a spin as she slides down. Yum will wobble with his ship when you move the anchor at the swinging ship ride.
Collect and connect the Jollitown Theme Park toys with every purchase of a Yumburger (P80.00), Yumburger Meal with Drink (P100.00), Jolly Spaghetti (P95.00), Jolly Spaghetti Meal with Drink (P105.00), 1-piece Burger Steak (P95.00), 1-piece Burger Steak Meal with Drink (P105.00), 1-piece Chickenjoy with rice (P120.00), or 1-piece Chickenjoy Meal with Drink (P135.00), each with its own Jolly Joy Box.
Build your very own Jollitown Theme Park with the newest Jolly Kiddie Meal, available only until January 31 only. Visit the nearest Jollibee branch to collect and connect all five toys!