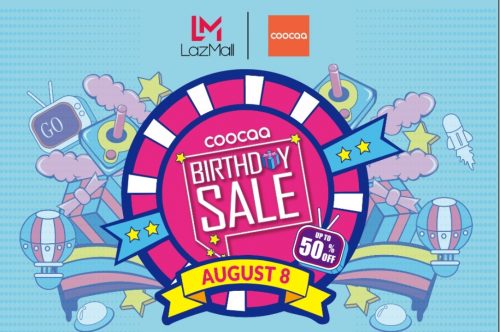 Coocaa, the Shenzhen-based mid-to-high-end Internet brand that provides high specs, high cost performance consumer electronic products, is celebrating its birthday!
What better way to celebrate the occasion than by giving its customers a sale to remember? Starting this Thursday, August 08 until August 09, Coocaa will be celebrating with a birthday blowout in all Southeast Asian Lazada online stores. Excited shoppers can find vouchers of up to 50% off Coocaa's top products on Lazada Philippines! To extend the birthday celebration, in October, Coocaa will be launching three (3) smart TVs, like the all-new 50'' & 65" Android 9.0 OS smart TV and 50'' Netflix built-in TV.
"The birthday sale on Lazada's platform is our way of saying thank you to our customers and to our e-commerce partner as we have become the number 1 best-selling home appliance brand on Lazada, as well as for the loyalty shown to us over the past year by giving us the opportunity to be part of customers' home to provide intelligent, functional, yet affordable entertainment center for families from all walks of life" shares Daniel Huang, Coocaa Project Manager, Skyworth Global E-commerce.
Through an easy, user-friendly online experience on Lazada, shoppers can look forward to snagging Coocaa's top selling TVs – like their 50" 4K Android 8.0 TV or their 40" FHD Smart TV that lets you stream movies with its built-in Netflix – as part of their birthday party treats. Lazada gives shoppers easy access to products from customers' favorite brand stores, available for purchase at the touch of a button.
Daniel Huang adds, "We've seen that as the more tech-savvy Millennials and Gen Z generate their own income, there is an increased demand for fast and convenient access to cutting-edge entertainment. That's why Coocaa champions affordability, functionality and great value with every product we put on the market. We further address their needs by creating amazing experiences with the help of online partners in a dynamic multi-channel retail environment to encourage ease, security and delivery punctuality."