To create the new costumes in Warner Bros. Pictures' new psychological thriller "Joker," director Todd Phillips sought out costume designer Mark Bridges, who had designed for lead actor Joaquin Phoenix (Arthur Fleck aka Joker) in both the latter's acclaimed films "The Master" and "Inherent Vice."
Bridges was flattered when Phillips reached out. "Todd sent a lovely note that said that he had this project coming up and would I consider working on it. Certainly to get a note like that from someone of Todd's caliber… And of course working with an old friend like Joaquin is truly a joy for me. We have a wonderful back and forth and I trust him. We talk and he's quite open to my suggestions as to how best represent on the outside this person he's working on on the inside. So, all the pieces fell into place based on Todd's personal request."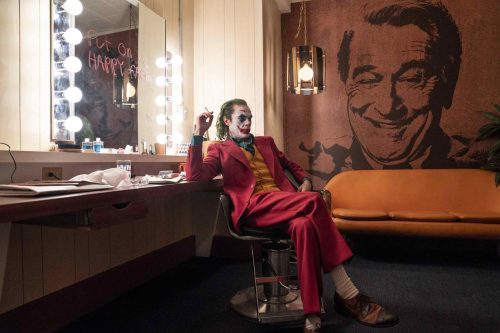 Arthur Fleck's Joker Suit
When it came down to the actual Joker costume for the film, Bridges happily reports that its design was, in part, written into the script as "a rust suit Arthur has had for many years." Still, he confesses, "You have a million thoughts running through your mind and there's a little bit of external pressure to serve the fans as well as the piece. But ultimately my work comes down to telling this particular story, where the outfit has to be something very organic to the character: pieces we've seen Arthur wear before, now reassembled to become what Joker wears."
Working backwards, Bridges was able to determine when and how much of the building blocks to the final look would appear throughout the story.
"I started from the beginning and then took it on a journey—this piece in the comedy club, how it gets recombined with different items at different beats—to get to the final result.  When Joaquin and I had our final fitting for the full suit, it was all put together with the right shirt, the right waistcoat… It was dead-on `70s with a slightly longer line in the jacket, and he took on a strange, slinky confidence that he doesn't have as Arthur, but which was just right for Joker.  To me, that was really satisfying."
Phoenix agrees, "As Joker, he walks tall. He's confident. Prior to that it's like he was a shell of himself."
The Joker Make-Up
Throughout the film, Arthur dons a clown face of varying degrees for various performances. His ultimate Joker look was designed by Phillips and Phoenix as an exaggerated version of Arthur's regular maquillage and executed to perfection by make-up department head Nicki Lederman and her team, utilizing the basic red and green of Arthur's clown character. Lederman herself created a unique shade for Arthur's tears from various pigments she had on hand, dubbing it antique blue.
In Philippine cinemas Thursday, October 3, "Joker" is distributed in the Philippines by Warner Bros. Pictures, a WarnerMedia Company. Use the hashtag #JokerMovie