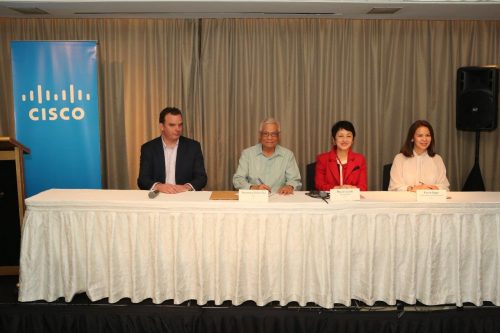 The Department of Information and Communications Technology (DICT), the administrative entity responsible for planning, developing, and promoting the national ICT development agenda of the Philippines, and Cisco, a worldwide leader in technology, today signed a Memorandum of Understanding (MoU) to collaborate and strengthen the cybersecurity in the Philippines.
Under the MoU, both parties committed to enhance information and intelligence sharing on cybersecurity threats and incidents. The two also agreed to conduct workshops and facilitate the exchange of ideas to enhance the cybersecurity of Critical Information Infrastructure. DICT will benefit from the in-depth research from Cisco's wide telemetry of threat intelligence and leverage the information to better protect the government and critical infrastructure in the Philippines against emerging cyber threats.
Enhancing cybersecurity capabilities across the Philippines has been a top priority for the DICT. This has been exemplified when the DICT launched the National Cybersecurity Plan 2022 last May 2017. The Plan aims to: assure the continuous operation of country's critical information infrastructure; implement cyber resiliency measures to enhance the ability to respond to threats before, during and after attacks; effectively coordinate with law enforcement agencies; and boost cybersecurity awareness among citizens. DICT and Cisco will collaborate on specific programs to build up cybersecurity skills and capabilities in the Philippines, with the aim of enhancing the capacity and sophistication of cyber threat defenders in the country. Cisco has been playing an active role on this front.
The Cisco Networking Academy (www.netacad.com) Cybersecurity courses upskill individuals to build the workforce of tomorrow. Over 5,800 students in the Philippines have undertaken Cybersecurity courses under the academy to date, with almost 400,000 students trained since inception under the broader ICT curriculum offered through the Networking Academy.
The MoU was signed by DICT Acting Secretary Eliseo Rio, Jr., and Karrie Ilagan, Managing Director of Cisco Philippines.
Acting Secretary Rio stated that, "As the Philippines continues to push towards digital transformation, we are committed to ensure that we build our cybersecurity capabilities accordingly. This not only includes adopting the right technologies, but also building the local talent pool in the sector. For this all stakeholders from government, to industry and educational institutions need to work together. Our partnership with Cisco will play a key role in making our cyberspace safe and resilient."
Karrie Ilagan, Managing Director Philippines at Cisco said: "Digital adoption and innovation are playing an important role in boosting the growth of the Philippines economy. As technology become an integral part of businesses and consumers, and we embark on digitizing the entire country through projects like smart city initiatives, the reliance on data and connectivity will continue to rise. The success of this digital transformation hinges in large part on the Philippines' ability to tackle the cybersecurity threat. We are delighted to have the opportunity to partner with DICT and play our part in improving the country's cybersecurity resilience."