Lets hear it once more for the titos of Manila!
What started out two years ago as a feel-good, tongue-in-cheek stage musical tackling the joys and pains of growing old has garnered acclaim from Gen Xers and millennials alike.
Slated for its third run this coming February and March at the Music Museum, Spotlight Artist Centre's Dirty Old Musical (D.O.M.) features world-class stage performers headed by Robert Seña, Bo Cerrudo, Nonie Buencamino, Carlo Orosa and Jett Pangan, with a powerhouse supporting ensemble comprised of Kitkat, Tricia Amper-Jimenez, Ima Castro, Neo Rivera, Katherine Tiuseco, Anthony Castillo, Matel Patayon and Carlon Matobato.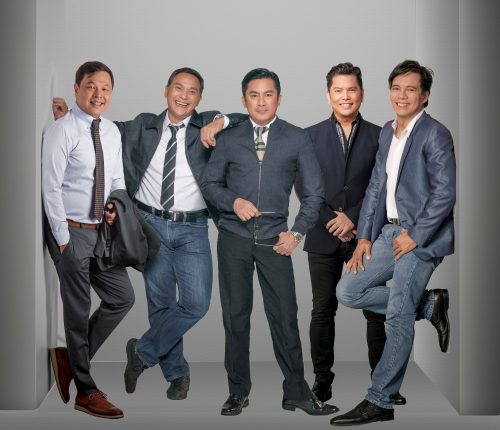 D.O.M. tackles the wacky misadventures of tito-hoodalways a trend- and meme-worthy topic on social media. Playfully naughty and irreverent, the musical takes a peek into the personal struggles of five men dealing with middle age crisis and all its telltale signs.
Adding even more luster to the production is a tito-llating soundtrack composed of well-loved and timeless OPM hits that the audience can sing along to, including Kastilyong Buhangin, Mag Exercise Tayo Tuwing Umaga, Nais Ko, Kay Ganda ng Ating Musika, Babae, Bikining Itim, Legs, Ang Himig Natin, Sana, Babaero, Pasumpasumpa Ka Pa, Kung Liligaya Ka, Ayoko na Sa'yo, Balatkayo, Hahanapin Ko, Farewell, Nosi Balasi and Mr. Kenkoy.
Spotlight Artist heads Robert and Isay Alvarez-Seña are excited about the continuing evolution of their very first original OPM musical.
Isay shares, "Based on our experience from the last two runs, the audience can relate to the comic real-life sketches, whether they be millennials or the so-called titos and titas of Manila. This time, were excited to have Jett Pangan (lead vocalist of The Dawn) as part of the cast, and were sure that his fans will see a different Jett this time, singing and dancing with the rest of the boys."
The couple mounted their Mr. & Mrs. Seña concert series at the CCP last September, and are likely to pursue their respective TV acting projects this year.
Dirty Old Musical playdates are February 22 and 23, March 1, 2, 8, 9, 15, 16, 22 and 23, 8:00 p.m, with matinees on March 15 and 22, 3:00 p.m.
Produced by Spotlight Artists Centre, Dirty Old Musical is directed by Dexter M. Santos, with musical direction by Myke Salomon, script by Rody Vera, set/production design by Mitoy Sta. Ana and lighting director, John Batalla.
For ticket inquiries, call Music Museum (721-6276), or Spotlight Artists Centre (776-0919/09199114444).